Package: minder (1.13.1-1)
Links for minder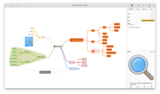 Debian Resources:
Download Source Package minder:
Maintainer:
External Resources:
Similar packages:
Mind-mapping application
Minder is a mind-mapping application, featuring

 * Quickly create visual mind-maps using the keyboard and automatic layout.
 * Gorgeous themes.
 * Export to PDF, PNG, JPEG, BMP, SVG, OPML, CSV, Markdown and PlainText
   formats.
 * Printer support.
 * Add notes, tasks and images to your nodes.
 * Colorized node branches.

Other Packages Related to minder
Download minder
Download for all available architectures

| Architecture | Package Size | Installed Size | Files |
| --- | --- | --- | --- |
| alpha (unofficial port) | 584.9 kB | 3,756.0 kB | [list of files] |
| amd64 | 602.7 kB | 3,233.0 kB | [list of files] |
| arm64 | 570.0 kB | 3,249.0 kB | [list of files] |
| armel | 533.2 kB | 2,992.0 kB | [list of files] |
| armhf | 540.1 kB | 2,636.0 kB | [list of files] |
| hppa (unofficial port) | 537.0 kB | 3,155.0 kB | [list of files] |
| i386 | 651.3 kB | 3,600.0 kB | [list of files] |
| ia64 (unofficial port) | 679.4 kB | 5,096.0 kB | [list of files] |
| m68k (unofficial port) | 569.8 kB | 3,108.0 kB | [list of files] |
| mips64el | 509.6 kB | 3,578.0 kB | [list of files] |
| mipsel | 524.5 kB | 3,579.0 kB | [list of files] |
| ppc64 (unofficial port) | 624.8 kB | 4,141.0 kB | [list of files] |
| ppc64el | 628.3 kB | 3,821.0 kB | [list of files] |
| riscv64 (unofficial port) | 529.8 kB | 2,716.0 kB | [list of files] |
| s390x | 550.6 kB | 3,293.0 kB | [list of files] |
| sh4 (unofficial port) | 624.9 kB | 2,980.0 kB | [list of files] |
| sparc64 (unofficial port) | 490.5 kB | 3,081.0 kB | [list of files] |
| x32 (unofficial port) | 605.7 kB | 3,172.0 kB | [list of files] |