Package: xyscan (4.64-2 and others)
Links for xyscan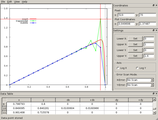 Debian Resources:
Download Source Package xyscan:
Maintainer:
External Resources:
Similar packages:
data thief for scientists
xyscan is a tool for the scientist in the need to extract data points, i.e. numeric values, from a plot. It allows you to scan the plots and extract data points including the size of the error bars (both in x and y). It can handle plots with linear and logarithmic scales. In fact xyscan can be used for extracting numeric values from any kind of 2D technical drawings.
Other Packages Related to xyscan
dep:

libatomic1 (>= 4.8) [m68k, sh4]

support library providing __atomic built-in functions

dep:

libc6 (>= 2.29) [m68k, sparc64, x32]

GNU C Library: Shared libraries
also a virtual package provided by libc6-udeb

dep:

libc6 (>= 2.31) [sh4]

dep:

libc6 (>= 2.34) [not alpha, ia64, m68k, sh4, sparc64, x32]

dep:

libc6.1 (>= 2.33) [ia64]

GNU C Library: Shared libraries
also a virtual package provided by libc6.1-udeb

dep:

libc6.1 (>= 2.34) [alpha]

dep:

libgcc-s1 (>= 3.0) [not armel, armhf, hppa, ia64, m68k, sh4, sparc64]

GCC support library

dep:

libgcc-s1 (>= 3.3.4) [sh4]

dep:

libgcc-s1 (>= 3.5) [armel, armhf]

dep:

libgcc-s2 (>= 4.2.1) [m68k]

GCC support library

dep:

libgcc-s4 (>= 4.1.1) [hppa]

GCC support library

dep:

libgcc1 (>= 1:3.0) [sparc64]

Package not available

dep:

libgl1 [m68k, sh4, sparc64]

Vendor neutral GL dispatch library -- legacy GL support

dep:

libpoppler-qt5-1 (>= 0.24.5)

PDF rendering library (Qt 5 based shared library)

dep:

libpoppler102 (>= 20.09.0) [m68k]

Package not available

dep:

libpoppler82 (>= 0.71.0) [sparc64]

Package not available

dep:

libpoppler95 (>= 0.85.0) [sh4]

Package not available

dep:

libqt5charts5 (>= 5.7.1) [not sparc64]

Qt charts shared library

dep:

libqt5core5a (>= 5.14.1) [m68k, sh4]

Qt 5 core module

dep:

libqt5core5a (>= 5.15.1) [not m68k, sh4, sparc64]

dep:

libqt5core5a (>= 5.3.0) [sparc64]

dep:

libqt5gui5 (>= 5.11.0~rc1) [not sparc64]

Qt 5 GUI module

or libqt5gui5-gles (>= 5.11.0~rc1)

Qt 5 GUI module — OpenGL ES variant

dep:

libqt5gui5 (>= 5.8.0) [sparc64]

or libqt5gui5-gles (>= 5.8.0)

dep:

libqt5multimedia5 (>= 5.6.0~beta)

Qt 5 Multimedia module

dep:

libqt5network5 (>= 5.0.2)

Qt 5 network module

dep:

libqt5printsupport5 (>= 5.0.2)

Qt 5 print support module

dep:

libqt5widgets5 (>= 5.12.2)

Qt 5 widgets module

dep:

libqt5xml5 (>= 5.0.2) [m68k, sh4, sparc64]

Qt 5 XML module

dep:

libstdc++6 (>= 11) [not m68k, riscv64, sh4, sparc64]

GNU Standard C++ Library v3

dep:

libstdc++6 (>= 13.1) [riscv64]

dep:

libstdc++6 (>= 4.4.0) [sparc64]

dep:

libstdc++6 (>= 5.2) [m68k, sh4]

dep:

libunwind8 [ia64]

library to determine the call-chain of a program - runtime

dep:

qttranslations5-l10n

translations for Qt 5
Download xyscan
Download for all available architectures

| Architecture | Version | Package Size | Installed Size | Files |
| --- | --- | --- | --- | --- |
| alpha (unofficial port) | 4.64-2 | 6,393.7 kB | 14,569.0 kB | [list of files] |
| amd64 | 4.64-2 | 6,396.2 kB | 14,461.0 kB | [list of files] |
| arm64 | 4.64-2 | 6,386.9 kB | 14,506.0 kB | [list of files] |
| armel | 4.64-2 | 6,383.1 kB | 14,410.0 kB | [list of files] |
| armhf | 4.64-2 | 6,384.1 kB | 14,362.0 kB | [list of files] |
| hppa (unofficial port) | 4.64-2 | 6,399.8 kB | 14,495.0 kB | [list of files] |
| i386 | 4.64-2 | 6,402.6 kB | 14,450.0 kB | [list of files] |
| ia64 (unofficial port) | 4.64-1 | 6,406.7 kB | 14,710.0 kB | [list of files] |
| m68k (unofficial port) | 4.50-1 | 5,357.8 kB | 11,606.0 kB | [list of files] |
| mips64el | 4.64-2 | 6,392.2 kB | 14,582.0 kB | [list of files] |
| ppc64 (unofficial port) | 4.64-2 | 6,395.7 kB | 14,578.0 kB | [list of files] |
| ppc64el | 4.64-2 | 6,395.0 kB | 14,569.0 kB | [list of files] |
| riscv64 | 4.64-2 | 6,393.5 kB | 14,413.0 kB | [list of files] |
| s390x | 4.64-2 | 6,388.3 kB | 14,477.0 kB | [list of files] |
| sh4 (unofficial port) | 4.50-1 | 5,370.8 kB | 11,596.0 kB | [list of files] |
| sparc64 (unofficial port) | 4.30-2+b3 | 2,478.5 kB | 3,003.0 kB | [list of files] |
| x32 (unofficial port) | 4.64-1 | 6,398.2 kB | 14,433.0 kB | [list of files] |