Package: tabix (1.17+ds-1)
Links for tabix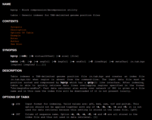 Debian Resources:
Download Source Package htslib:
Maintainers:
External Resources:
Similar packages:
generic indexer for TAB-delimited genome position files
Tabix indexes files where some columns indicate sequence coordinates: name (usually a chromosome), start and stop. The input data file must be position sorted and compressed by bgzip (provided in this package), which has a gzip like interface. After indexing, tabix is able to quickly retrieve data lines by chromosomal coordinates. Fast data retrieval also works over network if an URI is given as a file name.
This package is built from the HTSlib source, and provides the bgzip, htsfile, and tabix tools.
Other Packages Related to tabix
Download tabix
Download for all available architectures

| Architecture | Package Size | Installed Size | Files |
| --- | --- | --- | --- |
| alpha (unofficial port) | 461.5 kB | 2,632.0 kB | [list of files] |
| amd64 | 455.2 kB | 2,215.0 kB | [list of files] |
| arm64 | 422.5 kB | 2,243.0 kB | [list of files] |
| armel | 386.3 kB | 1,988.0 kB | [list of files] |
| armhf | 387.3 kB | 1,424.0 kB | [list of files] |
| hppa (unofficial port) | 447.5 kB | 2,244.0 kB | [list of files] |
| i386 | 498.9 kB | 2,516.0 kB | [list of files] |
| ia64 (unofficial port) | 547.6 kB | 4,588.0 kB | [list of files] |
| m68k (unofficial port) | 416.2 kB | 2,056.0 kB | [list of files] |
| mips64el | 419.0 kB | 2,609.0 kB | [list of files] |
| ppc64 (unofficial port) | 478.7 kB | 3,139.0 kB | [list of files] |
| ppc64el | 489.9 kB | 2,947.0 kB | [list of files] |
| riscv64 | 472.6 kB | 1,854.0 kB | [list of files] |
| s390x | 412.5 kB | 2,331.0 kB | [list of files] |
| sh4 (unofficial port) | 476.5 kB | 1,987.0 kB | [list of files] |
| sparc64 (unofficial port) | 390.6 kB | 3,154.0 kB | [list of files] |
| x32 (unofficial port) | 453.2 kB | 2,140.0 kB | [list of files] |