Package: skrooge (2.12.0-1 and others)
Links for skrooge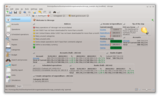 Debian Resources:
Download Source Package skrooge:
Maintainers:
External Resources:
Similar packages:
personal finance manager for KDE
Skrooge allows you to manage your personal finances. It is intended to be used by individuals who want to keep track of their incomes, expenses and investments. Its philosophy is to stay simple and intuitive.
Here is the list of Skrooge main features:

 * QIF, CSV, KMyMoney, Skrooge,  import/export
 * OFX, QFX, GnuCash, Grisbi, HomeBank import
 * Advanced Graphical Reports
 * Several tabs to help you organize your work
 * Infinite undo/redo
 * Instant filtering on operations and reports
 * Infinite categories levels
 * Mass update of operations
 * Scheduled operations
 * Track refund of your expenses
 * Automatically process operations based on search conditions
 * Multi currencies
 * Dashboard

Other Packages Related to skrooge
dep:

kdebase-runtime [sh4]

Transitional package for the KDE runtime components

dep:

kinit [not sh4, sparc64]

process launcher to speed up launching KDE applications

dep:

kio [not sh4, sparc64]

resource and network access abstraction

dep:

libc0.1 (>= 2.17-91) [kfreebsd-amd64, kfreebsd-i386]

GNU C Library: Shared libraries
also a virtual package provided by libc0.1-udeb

dep:

libc0.3 (>= 2.4) [hurd-i386]

GNU C Library: Shared libraries
also a virtual package provided by libc0.3-udeb

dep:

libc6.1 (>= 2.1.3) [alpha]

GNU C Library: Shared libraries
also a virtual package provided by libc6.1-udeb

dep:

libgcc1 (>= 1:3.0) [amd64, arm64, kfreebsd-amd64, mips64el, ppc64, ppc64el, s390x, x32]

GCC support library

dep:

libgcc1 (>= 1:3.4) [alpha, sparc64]

dep:

libgcc1 (>= 1:3.5) [armel, armhf]

dep:

libgcc1 (>= 1:4.1.1) [sh4]

dep:

libgcc1 (>= 1:4.2) [hurd-i386, i386, kfreebsd-i386, mips, mipsel, powerpc, powerpcspe]

dep:

libgcc2 (>= 4.2.1) [m68k]

GCC support library

dep:

libgcc4 (>= 4.1.1) [hppa]

GCC support library

dep:

libgrantlee-core0 (>= 0.1.4) [sh4]

Grantlee templating library for Qt - Core

dep:

libgrantlee-templates5 (>= 5.0.0) [not sh4]

Grantlee templating library for Qt - Templates

dep:

libkdecore5 (>= 4:4.5.85) [sh4]

KDE Platform Core Library

dep:

libkdeui5 (>= 4:4.4.4) [sh4]

KDE Platform User Interface Library

dep:

libkf5archive5 (>= 4.96.0) [not sh4]

Qt 5 addon providing access to numerous types of archives

dep:

libkf5completion5 (>= 4.97.0) [not sh4]

Widgets with advanced auto-completion features.

dep:

libkf5configcore5 (>= 4.98.0) [not sh4]

configuration settings framework for Qt

dep:

libkf5configgui5 (>= 4.97.0) [not sh4]

configuration settings framework for Qt

dep:

libkf5configwidgets5 (>= 4.96.0) [not sh4]

Extra widgets for easier configuration support.

dep:

libkf5coreaddons5 (>= 5.2.0) [not sh4]

KDE Frameworks 5 addons to QtCore

dep:

libkf5dbusaddons5 (>= 4.97.0) [sparc64]

class library for qtdbus

dep:

libkf5dbusaddons5 (>= 4.99.0) [not sh4, sparc64]

dep:

libkf5i18n5 (>= 4.97.0) [not sh4]

Advanced internationalization framework.

dep:

libkf5iconthemes5 (>= 4.96.0) [not powerpcspe, sh4, sparc64]

Support for icon themes.

dep:

libkf5iconthemes5 (>= 5.25.0) [powerpcspe, sparc64]

dep:

libkf5itemviews5 (>= 4.96.0) [not sh4]

Qt library with additional widgets for ItemModels

dep:

libkf5kdelibs4support5 (>= 4.99.0) [sparc64]

Porting aid from KDELibs4.

dep:

libkf5kiocore5 (>= 4.96.0) [not sh4]

resource and network access abstraction (KIO core library)

dep:

libkf5kiofilewidgets5 (>= 4.96.0) [not sh4]

resource and network access abstraction (KIO file widgets library)

dep:

libkf5newstuff5 (>= 4.95.0) [not sh4]

Support for downloading application assets from the network.

dep:

libkf5notifications5 (>= 4.96.0) [not sh4]

Framework for desktop notifications

dep:

libkf5notifyconfig5 (>= 4.96.0) [not sh4]

Configuration system for KNotify.

dep:

libkf5parts5 (>= 4.96.0) [not sh4]

Document centric plugin system.

dep:

libkf5runner5 (>= 5.0.0) [not sh4]

Used to write plugins loaded at runtime called "Runners".

dep:

libkf5service-bin [not sh4]

Advanced plugin and service introspection

dep:

libkf5service5 (>= 4.96.0) [not sh4]

Advanced plugin and service introspection

dep:

libkf5textwidgets5 (>= 4.96.0) [not sh4]

Advanced text editing widgets.

dep:

libkf5wallet-bin [not sh4]

Secure and unified container for user passwords.

dep:

libkf5wallet5 (>= 4.96.0) [not sh4]

Secure and unified container for user passwords.

dep:

libkf5widgetsaddons5 (>= 4.96.0) [not sh4]

add-on widgets and classes for applications that use the Qt Widgets module

dep:

libkf5xmlgui5 (>= 4.98.0) [not sh4]

User configurable main windows.

dep:

libkio5 (>= 4:4.4.4) [sh4]

Network-enabled File Management Library for the KDE Platform

dep:

libknewstuff3-4 (>= 4:4.5.85) [sh4]

"Get Hot New Stuff" v3 Library for the KDE Platform

dep:

libkparts4 (>= 4:4.4.4) [sh4]

Framework for the KDE Platform Graphical Components

dep:

libkrosscore4 (>= 4:4.4.4) [sh4]

Kross Core Library

dep:

libnepomuk4 (>= 4:4.4.4) [sh4]

Nepomuk Meta Data Library

dep:

libnepomukutils4 (>= 4:4.5.85) [sh4]

Nepomuk Utility Library

dep:

libofx4 [sh4]

Package not available

dep:

libofx6 [sparc64]

library to support the Open Financial Exchange format

dep:

libofx7 [not sh4, sparc64]

library to support the Open Financial Exchange format

dep:

libplasma3 (>= 4:4.4.95) [sh4]

Plasma Library for the KDE Platform

dep:

libqca-qt5-2 (>= 2.0.2) [not sh4]

libraries for the Qt Cryptographic Architecture

dep:

libqca-qt5-2-plugins [not sh4]

QCA plugins for libqca2

dep:

libqca2 (>= 2.0.2) [sh4]

libraries for the Qt Cryptographic Architecture

dep:

libqca2-plugin-ossl [sh4]

transitional package for libqca2-plugins

dep:

libqt4-dbus (>= 4:4.5.3) [sh4]

Qt 4 D-Bus module

dep:

libqt4-network (>= 4:4.5.3) [sh4]

Qt 4 network module

dep:

libqt4-script (>= 4:4.5.3) [sh4]

Qt 4 script module

dep:

libqt4-sql (>= 4:4.5.3) [sh4]

Qt 4 SQL module

dep:

libqt4-sql-sqlite [sh4]

Qt 4 SQLite 3 database driver

dep:

libqt4-svg (>= 4:4.5.3) [sh4]

Qt 4 SVG module

dep:

libqt4-xml (>= 4:4.5.3) [sh4]

Qt 4 XML module

dep:

libqt5concurrent5 (>= 5.6.0~rc) [not sh4]

Qt 5 concurrent module

dep:

libqt5core5a (>= 5.10.0) [amd64, i386]

Qt 5 core module

dep:

libqt5core5a (>= 5.5.0) [sparc64]

dep:

libqt5core5a (>= 5.7.0) [not amd64, i386, kfreebsd-amd64, kfreebsd-i386, sh4, sparc64, x32]

dep:

libqt5core5a (>= 5.9.0~beta) [kfreebsd-amd64, kfreebsd-i386, x32]

dep:

libqt5dbus5 (>= 5.3.0) [not sh4]

Qt 5 D-Bus module

dep:

libqt5gui5 (>= 5.3.0) [sparc64]

Qt 5 GUI module

dep:

libqt5gui5 (>= 5.7.0) [not sh4, sparc64]

dep:

libqt5network5 (>= 5.3.0) [not powerpcspe, sh4, sparc64]

Qt 5 network module

dep:

libqt5printsupport5 (>= 5.3.0) [not sh4]

Qt 5 print support module

dep:

libqt5qml5 (>= 5.0.2) [not sh4]

Qt 5 QML module

dep:

libqt5quick5 (>= 5.0.2) [not sh4]

Qt 5 Quick library

dep:

libqt5quickwidgets5 (>= 5.4.0) [not sh4]

Qt 5 Quick Widgets library

dep:

libqt5script5 (>= 5.6.0~beta) [not sh4]

Qt 5 script module

dep:

libqt5sql5 (>= 5.3.0) [sparc64]

Qt 5 SQL module

dep:

libqt5sql5 (>= 5.7.0) [not sh4, sparc64]

dep:

libqt5sql5-sqlite [not sh4]

Qt 5 SQLite 3 database driver

dep:

libqt5svg5 (>= 5.6.0~beta) [not sh4]

Qt 5 SVG module

dep:

libqt5webkit5 (>= 5.6.0~rc) [not sh4]

Web content engine library for Qt

dep:

libqt5widgets5 (>= 5.3.0) [not sh4]

Qt 5 widgets module

dep:

libqt5xml5 (>= 5.3.0) [not sh4]

Qt 5 XML module

dep:

libqtcore4 (>= 4:4.7.4-2) [sh4]

Qt 4 core module

dep:

libqtgui4 (>= 4:4.7.0~beta1) [sh4]

Qt 4 GUI module

dep:

libqtwebkit4 (>= 2.1.0~2011week13) [sh4]

Web content engine library for Qt

dep:

libsoprano4 (>= 2.1.1) [sh4]

libraries for the Soprano RDF framework

dep:

libsqlcipher0 (>= 1.1.9) [not sh4]

SQLCipher shared library

dep:

libstdc++6 (>= 4.1.1) [sh4, sparc64]

GNU Standard C++ Library v3

dep:

libstdc++6 (>= 4.5) [not sh4, sparc64]

dep:

python3 [not powerpcspe, sh4, sparc64]

interactive high-level object-oriented language (default python3 version)

dep:

qtbase-abi-5-10-0 [not alpha, hppa, hurd-i386, kfreebsd-amd64, kfreebsd-i386, m68k, powerpcspe, sh4, sparc64, x32]

virtual package provided by libqt5core5a

dep:

qtbase-abi-5-6-1 [sparc64]

Package not available

dep:

qtbase-abi-5-7-1 [powerpcspe]

Package not available

dep:

qtbase-abi-5-9-0 [kfreebsd-amd64, kfreebsd-i386]

Package not available

dep:

qtbase-abi-5-9-2 [alpha, hppa, hurd-i386, m68k, x32]

virtual package provided by libqt5core5a

dep:

skrooge-common (= 1.2.0-2) [sh4]

Skrooge architecture independent files

dep:

skrooge-common (= 2.12.0-1) [not kfreebsd-amd64, kfreebsd-i386, powerpcspe, sh4, sparc64]

dep:

skrooge-common (= 2.4.0-2) [sparc64]

dep:

skrooge-common (= 2.8.1-1) [powerpcspe]

dep:

skrooge-common (= 2.9.0-1) [kfreebsd-amd64, kfreebsd-i386]
Download skrooge
Download for all available architectures

| Architecture | Version | Package Size | Installed Size | Files |
| --- | --- | --- | --- | --- |
| alpha (unofficial port) | 2.12.0-1 | 1,605.3 kB | 11,401.0 kB | [list of files] |
| amd64 | 2.12.0-1+b1 | 1,581.3 kB | 9,542.0 kB | [list of files] |
| arm64 | 2.12.0-1+b1 | 1,399.5 kB | 9,102.0 kB | [list of files] |
| armel | 2.12.0-1+b1 | 1,401.7 kB | 7,981.0 kB | [list of files] |
| armhf | 2.12.0-1+b1 | 1,451.8 kB | 6,528.0 kB | [list of files] |
| hppa (unofficial port) | 2.12.0-1 | 1,656.1 kB | 10,831.0 kB | [list of files] |
| hurd-i386 | 2.12.0-1 | 1,759.1 kB | 10,118.0 kB | [list of files] |
| i386 | 2.12.0-1+b1 | 1,762.9 kB | 10,225.0 kB | [list of files] |
| kfreebsd-amd64 | 2.9.0-1 | 1,616.2 kB | 9,048.0 kB | [list of files] |
| kfreebsd-i386 | 2.9.0-1 | 1,795.6 kB | 9,698.0 kB | [list of files] |
| m68k (unofficial port) | 2.12.0-1 | 1,519.4 kB | 8,900.0 kB | [list of files] |
| mips | 2.12.0-1+b1 | 1,332.4 kB | 9,609.0 kB | [list of files] |
| mips64el | 2.12.0-1+b1 | 1,364.7 kB | 10,164.0 kB | [list of files] |
| mipsel | 2.12.0-1+b1 | 1,372.9 kB | 9,609.0 kB | [list of files] |
| powerpc | 2.12.0-1+b1 | 1,405.1 kB | 10,974.0 kB | [list of files] |
| powerpcspe (unofficial port) | 2.8.1-1+b1 | 1,440.8 kB | 10,359.0 kB | [list of files] |
| ppc64 (unofficial port) | 2.12.0-1+b1 | 1,490.8 kB | 13,184.0 kB | [list of files] |
| ppc64el | 2.12.0-1+b1 | 1,476.3 kB | 12,530.0 kB | [list of files] |
| s390x | 2.12.0-1+b1 | 1,438.6 kB | 10,044.0 kB | [list of files] |
| sh4 (unofficial port) | 1.2.0-2 | 2,460.4 kB | 6,981.0 kB | [list of files] |
| sparc64 (unofficial port) | 2.4.0-2 | 1,259.7 kB | 8,166.0 kB | [list of files] |
| x32 (unofficial port) | 2.12.0-1 | 1,631.1 kB | 8,733.0 kB | [list of files] |