Package: racket (8.7+dfsg1-1 and others)
Links for racket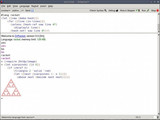 Debian Resources:
Download Source Package racket:
Maintainer:
External Resources:
Similar packages:
extensible programming language in the Scheme family
Racket (previously PLT Scheme) is a programming language suitable for scripting and application development, including GUIs and web services.
It supports the creation of new programming languages through a rich, expressive syntax system. Supplied languages include Typed Racket, ACL2, FrTime, and Lazy Racket, and R6RS Scheme.
Racket includes the DrRacket programming environment, a virtual machine with a just-in-time compiler, tools for creating stand-alone executables, the Racket web server, extensive libraries, and documentation for both beginners and experts.
Other Packages Related to racket
Download racket
Download for all available architectures

| Architecture | Version | Package Size | Installed Size | Files |
| --- | --- | --- | --- | --- |
| alpha (unofficial port) | 8.7+dfsg1-1 | 28,333.5 kB | 189,633.0 kB | [list of files] |
| amd64 | 8.7+dfsg1-1 | 90,334.1 kB | 337,522.0 kB | [list of files] |
| arm64 | 8.7+dfsg1-1 | 85,546.7 kB | 343,817.0 kB | [list of files] |
| armel | 8.7+dfsg1-1 | 26,728.6 kB | 181,457.0 kB | [list of files] |
| armhf | 8.7+dfsg1-1 | 84,483.0 kB | 308,694.0 kB | [list of files] |
| i386 | 8.7+dfsg1-1 | 93,078.6 kB | 303,300.0 kB | [list of files] |
| mips64el | 8.7+dfsg1-1 | 27,918.4 kB | 187,606.0 kB | [list of files] |
| mipsel | 8.7+dfsg1-1 | 28,307.0 kB | 187,590.0 kB | [list of files] |
| ppc64 (unofficial port) | 8.7+dfsg1-1 | 28,300.1 kB | 189,325.0 kB | [list of files] |
| ppc64el | 8.7+dfsg1-1 | 28,464.8 kB | 188,247.0 kB | [list of files] |
| riscv64 (unofficial port) | 8.7+dfsg1-1 | 31,518.4 kB | 234,969.0 kB | [list of files] |
| s390x | 8.7+dfsg1-1 | 27,725.4 kB | 185,519.0 kB | [list of files] |
| sh4 (unofficial port) | 5.1.1+dfsg1-2 | 3,858.0 kB | 10,732.0 kB | [list of files] |
| sparc64 (unofficial port) | 8.7+dfsg1-1 | 27,667.8 kB | 189,321.0 kB | [list of files] |