Package: qxw (20140331-1 and others)
Links for qxw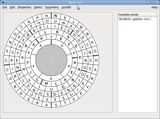 Debian Resources:
Download Source Package qxw:
Maintainer:
External Resources:
Similar packages:
advanced interactive crossword construction tool
Qxw is a program to help you create and publish crosswords, from the simplest blocked grid to sophisticated thematic puzzles. It can make rectangular-, hexagonal- or circular-format grids with blocks, bars or both. It has an automatic grid-filling facility that can handle a wide range of answer treatments and you can even add your own answer treatment methods. Grids can be filled using letters, digits, or a mixture of both. Qxw can produce output in a range of formats ready for publication.
Qxw is written in C and has a GUI based on GTK+.
Other Packages Related to qxw
rec:

wordlist

virtual package provided by miscfiles, wamerican, wamerican-huge, wamerican-insane, wamerican-large, wamerican-small, wbrazilian, wbritish, wbritish-huge, wbritish-insane, wbritish-large, wbritish-small, wbulgarian, wcanadian, wcanadian-huge, wcanadian-insane, wcanadian-large, wcanadian-small, wcatalan, wdanish, wdutch, wesperanto, wfaroese, wfrench, wgalician-minimos, wgerman-medical, witalian, wngerman, wnorwegian, wogerman, wpolish, wportuguese, wspanish, wswedish, wswiss, wukrainian