Package: musique (1.1-2.1 and others)
Links for musique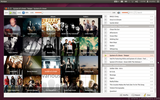 Debian Resources:
Download Source Package musique:
Maintainer:
External Resources:
Similar packages:
Simple but sophisticated graphical music player
Musique unclutters your music listening experience with a clean and innovative interface. It comes with one playlist, plain and simple, but also with graphical display of your albums and artists using pictures downloaded from last.fm. At the same time you can, of course, also browse your music directories and files.
The use of an internal database makes musique pretty fast.
Other Packages Related to musique
Download musique
Download for all available architectures

| Architecture | Version | Package Size | Installed Size | Files |
| --- | --- | --- | --- | --- |
| alpha (unofficial port) | 1.1-2.1+b1 | 440.0 kB | 1,733.0 kB | [list of files] |
| amd64 | 1.1-2.1+b1 | 442.8 kB | 1,488.0 kB | [list of files] |
| arm64 | 1.1-2.1+b1 | 414.0 kB | 1,476.0 kB | [list of files] |
| armel | 1.1-2.1+b1 | 410.1 kB | 1,343.0 kB | [list of files] |
| armhf | 1.1-2.1+b1 | 405.0 kB | 1,139.0 kB | [list of files] |
| hppa (unofficial port) | 1.1-2.1 | 430.5 kB | 1,475.0 kB | [list of files] |
| hurd-i386 | 1.1-2.1+b1 | 458.7 kB | 1,427.0 kB | [list of files] |
| i386 | 1.1-2.1+b1 | 454.1 kB | 1,423.0 kB | [list of files] |
| kfreebsd-amd64 | 1.1-2.1+b1 | 431.8 kB | 1,400.0 kB | [list of files] |
| kfreebsd-i386 | 1.1-2.1+b1 | 440.5 kB | 1,355.0 kB | [list of files] |
| m68k (unofficial port) | 1.1-2.1 | 588.7 kB | 1,487.0 kB | [list of files] |
| mips | 1.1-2.1+b1 | 419.5 kB | 1,671.0 kB | [list of files] |
| mips64el | 1.1-2.1 | 427.4 kB | 1,768.0 kB | [list of files] |
| mipsel | 1.1-2.1+b1 | 423.8 kB | 1,671.0 kB | [list of files] |
| powerpcspe (unofficial port) | 1.1-2.1 | 409.2 kB | 1,491.0 kB | [list of files] |
| ppc64 (unofficial port) | 1.1-2.1+b2 | 433.1 kB | 1,748.0 kB | [list of files] |
| ppc64el | 1.1-2.1+b1 | 428.9 kB | 1,621.0 kB | [list of files] |
| s390x | 1.1-2.1+b1 | 435.5 kB | 1,612.0 kB | [list of files] |
| sh4 (unofficial port) | 1.1-2.1 | 670.0 kB | 1,727.0 kB | [list of files] |
| sparc64 (unofficial port) | 1.1-2.1 | 559.2 kB | 1,550.0 kB | [list of files] |
| x32 (unofficial port) | 1.1-2.1 | 566.7 kB | 1,435.0 kB | [list of files] |