Package: latexila (3.22.0-1)
Links for latexila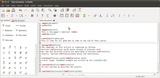 Debian Resources:
Download Source Package latexila:
Maintainer:
External Resources:
Similar packages:
LaTeX editor designed for the GNOME desktop
LaTeXila is a LaTeX editor for GNOME. It integrates the various tools required for processing LaTeX documents. It provides menus, buttons and templates to assist with the edition and the compilation of documents.
Other Packages Related to latexila
Download latexila
Download for all available architectures

| Architecture | Package Size | Installed Size | Files |
| --- | --- | --- | --- |
| alpha (unofficial port) | 275.0 kB | 1,882.0 kB | [list of files] |
| amd64 | 282.0 kB | 1,702.0 kB | [list of files] |
| arm64 | 240.0 kB | 1,602.0 kB | [list of files] |
| armel | 243.3 kB | 1,545.0 kB | [list of files] |
| armhf | 249.9 kB | 1,405.0 kB | [list of files] |
| hppa (unofficial port) | 253.6 kB | 1,632.0 kB | [list of files] |
| hurd-i386 | 302.9 kB | 1,789.0 kB | [list of files] |
| i386 | 301.6 kB | 1,789.0 kB | [list of files] |
| kfreebsd-amd64 | 280.4 kB | 1,702.0 kB | [list of files] |
| kfreebsd-i386 | 301.2 kB | 1,789.0 kB | [list of files] |
| m68k (unofficial port) | 266.7 kB | 1,633.0 kB | [list of files] |
| mips | 246.8 kB | 1,788.0 kB | [list of files] |
| mips64el | 245.7 kB | 1,820.0 kB | [list of files] |
| mipsel | 250.1 kB | 1,788.0 kB | [list of files] |
| powerpc | 247.7 kB | 1,769.0 kB | [list of files] |
| powerpcspe (unofficial port) | 250.0 kB | 1,769.0 kB | [list of files] |
| ppc64 (unofficial port) | 251.8 kB | 1,962.0 kB | [list of files] |
| ppc64el | 248.8 kB | 1,770.0 kB | [list of files] |
| s390x | 259.0 kB | 1,734.0 kB | [list of files] |
| sh4 (unofficial port) | 298.7 kB | 1,573.0 kB | [list of files] |
| sparc64 (unofficial port) | 229.5 kB | 1,633.0 kB | [list of files] |
| x32 (unofficial port) | 283.1 kB | 1,637.0 kB | [list of files] |