Package: input-pad (1.0.99.20210817-2 and others)
Links for input-pad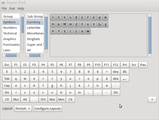 Debian Resources:
Download Source Package input-pad:
Maintainers:
External Resources:
Similar packages:
On-screen Input Pad to Send Characters with Mouse
The input pad is a tool to send a character to text applications when the corresponging button is pressed. It provides the GTK+ based GUI and can send characters when the GTK+ buttons are pressed.
This package contains a standalone application.
Other Packages Related to input-pad
dep:

libc6.1 (>= 2.1.3) [alpha]

GNU C Library: Shared libraries
also a virtual package provided by libc6.1-udeb

dep:

libc6.1 (>= 2.32) [ia64]

dep:

libinput-pad-1.0-1 (= 1.0.99.20210817-2) [alpha, hppa, ia64, m68k, ppc64, riscv64, sh4, sparc64, x32]

On-screen Input Pad to Send Characters with Mouse - libs

dep:

libinput-pad-1.0-1 (= 1.0.99.20210817-2+b1) [amd64, arm64, armel, armhf, i386, mips64el, mipsel, ppc64el, s390x]