Package: hoteldruid (2.2.2-1)
Links for hoteldruid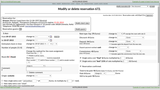 Debian Resources:
Download Source Package hoteldruid:
Maintainer:
External Resources:
Similar packages:
web-based property management system for hotels or B&Bs
HotelDruid is designed to make hotel rooms, bed and breakfast apartments, or any other kind of daily rental easy to manage from a web browser.
Main features:

 * automatic assignment of reservations to rooms by user-defined rules;
 * creation of public web pages displaying room availability, etc.;
 * saving, printing, and emailing of documents and invoices;
 * electronic point of sale;
 * management of groups and privileges for multi-user operation;
 * generation of statistical reports.

It uses an SQLite database by default but can be configured for use with MySQL or PostgreSQL.
Other Packages Related to hoteldruid
sug:

firefox

Mozilla Firefox web browser

or www-browser

virtual package provided by chromium, conkeror, dillo, dwb, edbrowse, elinks, epiphany-browser, falkon, firefox, firefox-esr, hv3, iceweasel, konqueror, links, links2, lynx, lynx-cur, netrik, netsurf, netsurf-fb, netsurf-gtk, sugar-browse-activity, surf, uzbl, w3m, xemacs21-gnome-mule, xemacs21-gnome-mule-canna-wnn, xemacs21-gnome-nomule, xemacs21-mule, xemacs21-mule-canna-wnn, xemacs21-nomule

sug:

php-mysql

MySQL module for PHP [default]

or php-pgsql

PostgreSQL module for PHP [default]
also a virtual package provided by php7.0-pgsql, php7.1-pgsql, php7.2-pgsql
Download hoteldruid
Download for all available architectures

| Architecture | Package Size | Installed Size | Files |
| --- | --- | --- | --- |
| all | 1,209.0 kB | 9,663.0 kB | [list of files] |