Package: gif2apng (1.9+srconly-3)
Links for gif2apng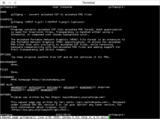 Debian Resources:
Download Source Package gif2apng:
Maintainer:
External Resources:
Similar packages:
tool for converting animated GIF images to APNG format
This package provides a command line tool for converting images from animated GIF to Animated PNG format.
The Animated Portable Network Graphics (APNG) file format is an extension to the Portable Network Graphics (PNG) specification. It allows for animated PNG files that work similarly to animated GIF files, while retaining backward compatibility with non-animated PNG files and adding support for 8-bit transparency and 24-bit images.
Other Packages Related to gif2apng
dep:

libc6.1 (>= 2.28) [ia64]

GNU C Library: Shared libraries
also a virtual package provided by libc6.1-udeb

dep:

libc6.1 (>= 2.7) [alpha]

dep:

libgcc1 (>= 1:3.5) [armel, armhf]

Package not available

dep:

libzopfli1

zlib (gzip, deflate) compatible compressor - shared library

dep:

zlib1g (>= 1:1.1.4)

compression library - runtime
sug:

apng2gif

tool for converting APNG images to animated GIF format