Package: gdm3 (43.0-3)
Links for gdm3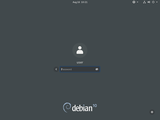 Debian Resources:
Download Source Package gdm3:
Maintainers:
External Resources:
Similar packages:
GNOME Display Manager
GDM provides the equivalent of a "login:" prompt for X displays: it asks for a login and starts graphical sessions.
It supports multiple seats and switching between multiple users.
The greeter is based on the GNOME libraries and applications, and its look and design are the same as those of a GNOME session.
Other Packages Related to gdm3
dep:

accountsservice (>= 0.6.35)

query and manipulate user account information

dep:

adduser

add and remove users and groups

dep:

dbus-bin

simple interprocess messaging system (command line utilities)

or systemd-sysv

system and service manager - SysV compatibility symlinks

dep:

dbus-daemon

simple interprocess messaging system (reference message bus)

dep:

dconf-cli (>= 0.20)

simple configuration storage system - utilities

dep:

dconf-gsettings-backend (>= 0.20)

simple configuration storage system - GSettings back-end

dep:

debconf (>= 0.5)

Debian configuration management system

or debconf-2.0

virtual package provided by cdebconf, cdebconf-udeb, debconf

virtual package provided by dbus
virtual package provided by dbus-broker

dep:

default-logind

Package not available

or logind

Package not available

dep:

gir1.2-gdm-1.0 (= 43.0-3)

GObject introspection data for the GNOME Display Manager

dep:

gnome-session

GNOME Session Manager - GNOME 3 session
virtual package provided by cinnamon-session, gnome-session, gnome-session-flashback, lxqt-session, lxsession, mate-session-manager, openbox, openbox-lxde-session, plasma-workspace, sugar-session, ukui-session-manager, xfce4-session
virtual package provided by 9wm, aewm++, afterstep, amiwm, awesome, blackbox, bspwm, cinnamon, clfswm, ctwm, cwm, dwm, e17, enlightenment, evilwm, fluxbox, flwm, fvwm, fvwm-crystal, fvwm1, fvwm3, herbstluftwm, i3-wm, icewm, icewm-experimental, jwm, kwin-x11, lwm, marco, matchbox-window-manager, metacity, miwm, muffin, mutter, mwm, notion, openbox, pekwm, ratpoison, sawfish, spectrwm, stumpwm, subtle, twm, ukwm, vtwm, w9wm, windowlab, wm2, wmaker, xfwm4, xmonad
virtual package provided by alacritty, cool-retro-term, deepin-terminal, eterm, foot, gnome-console, gnome-terminal, kitty, konsole, lilyterm, lxterminal, mate-terminal, mlterm, mlterm-tiny, pterm, qterminal, rxvt-unicode, sakura, stterm, terminator, terminology, termit, tilix, xfce4-terminal, xiterm+thai, xterm, yakuake, zutty

dep:

gnome-session-bin (>= 3.37.0)

GNOME Session Manager - Minimal runtime

dep:

gnome-session-common (>= 3.37.0-2~)

GNOME Session Manager - common files

dep:

gnome-settings-daemon (>= 3.37.0)

daemon handling the GNOME session settings

dep:

gnome-shell (>= 3.37.90)

graphical shell for the GNOME desktop

GSettings desktop-wide schemas

dep:

libaccountsservice0 (>= 0.6.55)

query and manipulate user account information - shared libraries

dep:

libaudit1 (>= 1:2.2.1)

Dynamic library for security auditing

dep:

libc6 (>= 2.34)

GNU C Library: Shared libraries
also a virtual package provided by libc6-udeb

dep:

libcanberra-gtk3-0 (>= 0.25)

GTK+ 3.0 helper for playing widget event sounds with libcanberra

dep:

libcanberra0 (>= 0.2)

simple abstract interface for playing event sounds

dep:

libgdk-pixbuf-2.0-0 (>= 2.22.0)

GDK Pixbuf library

dep:

libgdm1 (= 43.0-3)

GNOME Display Manager (shared library)

dep:

libglib2.0-0 (>= 2.68.0)

GLib library of C routines

dep:

libglib2.0-bin (>= 2.35.0)

Programs for the GLib library

dep:

libgtk-3-0 (>= 3.0.0)

GTK graphical user interface library

dep:

libgudev-1.0-0 (>= 232)

GObject-based wrapper library for libudev

dep:

libkeyutils1 (>= 1.5.9)

Linux Key Management Utilities (library)

dep:

libpam-modules (>= 0.72-1)

Pluggable Authentication Modules for PAM

dep:

libpam-runtime (>= 0.76-13.1)

Runtime support for the PAM library

dep:

libpam0g (>= 0.99.7.1)

Pluggable Authentication Modules library

dep:

librsvg2-common

SAX-based renderer library for SVG files (extra runtime)

dep:

libselinux1 (>= 3.1~)

SELinux runtime shared libraries

dep:

libsystemd0

systemd utility library

dep:

libx11-6

X11 client-side library

dep:

libxau6 (>= 1:1.0.9)

X11 authorisation library

dep:

libxcb1

X C Binding

dep:

libxdmcp6

X11 Display Manager Control Protocol library

dep:

polkitd

framework for managing administrative policies and privileges

dep:

procps

/proc file system utilities

dep:

ucf

Update Configuration File(s): preserve user changes to config files

dep:

x11-common (>= 1:7.6+11)

X Window System (X.Org) infrastructure

dep:

x11-xserver-utils

X server utilities
Download gdm3
Download for all available architectures

| Architecture | Package Size | Installed Size | Files |
| --- | --- | --- | --- |
| amd64 | 726.2 kB | 5,547.0 kB | [list of files] |
| arm64 | 709.8 kB | 5,827.0 kB | [list of files] |
| armel | 684.2 kB | 5,279.0 kB | [list of files] |
| armhf | 678.4 kB | 4,999.0 kB | [list of files] |
| i386 | 736.5 kB | 5,603.0 kB | [list of files] |
| mips64el | 676.8 kB | 6,016.0 kB | [list of files] |
| mipsel | 679.4 kB | 5,934.0 kB | [list of files] |
| ppc64el | 733.8 kB | 6,147.0 kB | [list of files] |
| riscv64 (unofficial port) | 686.7 kB | 5,171.0 kB | [list of files] |
| s390x | 701.2 kB | 5,547.0 kB | [list of files] |