Package: fractalnow (0.8.2-4 and others)
Links for fractalnow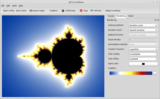 Debian Resources:
Download Source Package fractalnow:
Maintainer:
External Resources:
Similar packages:
Fast, advanced fractal generator
FractalNow provides users with tools to generate pictures of various types of fractals quickly and easily.
It is made of both a command line (FractalNow) and a graphical tool (QFractalNow).
The graphical tool, based on Qt library, allows users to explore fractals intuitively and generate pictures.
Both tools are entirely multi-threaded and implement advanced algorithms and heuristics that make computation very fast compared to most existing free fractal generators.
Other Packages Related to fractalnow
dep:

libatomic1 (>= 4.8) [armel, m68k, sh4]

support library providing __atomic built-in functions

dep:

libc6.1 (>= 2.18) [alpha]

GNU C Library: Shared libraries
also a virtual package provided by libc6.1-udeb

dep:

libgcc1 (>= 1:3.0) [alpha, amd64, s390x, sparc64, x32]

Package not available

dep:

libgcc1 (>= 1:3.5) [armel, armhf]

dep:

libgcc1 (>= 1:4.2) [arm64, i386, mips64el, mipsel, ppc64, ppc64el, riscv64, sh4]

dep:

libgcc2 (>= 4.2.1) [m68k]

Package not available

dep:

libgcc4 (>= 4.1.1) [hppa]

Package not available

dep:

libgl1 [hppa, m68k, sh4, sparc64]

Vendor neutral GL dispatch library -- legacy GL support

dep:

libgles2 [armel, armhf]

Vendor neutral GL dispatch library -- GLESv2 support
also a virtual package provided by mali-t62x-fbdev-driver, mali-t62x-wayland-driver, mali-t62x-x11-driver, mali-t76x-fbdev-driver, mali-t76x-wayland-driver, mali-t76x-x11-driver

dep:

libgmp10 [armel, armhf, hppa, m68k, sh4, sparc64]

Multiprecision arithmetic library

dep:

libmpc3

multiple precision complex floating-point library

dep:

libmpfr6 (>= 3.1.3)

multiple precision floating-point computation

dep:

libqt5concurrent5 (>= 5.0.2) [armel, armhf, hppa, m68k, sh4, sparc64]

Qt 5 concurrent module

dep:

libqt5core5a (>= 5.12.2) [not armel, armhf]

Qt 5 core module

dep:

libqt5core5a (>= 5.6.0~beta) [armel, armhf]

dep:

libqt5gui5 (>= 5.2.0) [armel, armhf]

Qt 5 GUI module

dep:

libqt5gui5 (>= 5.2.0) [not armel, armhf]

Qt 5 GUI module

or libqt5gui5-gles (>= 5.2.0)

Qt 5 GUI module — OpenGL ES variant

dep:

libqt5widgets5 (>= 5.0.2)

Qt 5 widgets module

dep:

libstdc++6 (>= 5.2)

GNU Standard C++ Library v3
Download fractalnow
Download for all available architectures

| Architecture | Version | Package Size | Installed Size | Files |
| --- | --- | --- | --- | --- |
| alpha (unofficial port) | 0.8.2-4+b1 | 805.5 kB | 7,633.0 kB | [list of files] |
| amd64 | 0.8.2-4+b1 | 740.9 kB | 5,491.0 kB | [list of files] |
| arm64 | 0.8.2-4+b1 | 718.5 kB | 4,599.0 kB | [list of files] |
| armel | 0.8.2-4 | 768.3 kB | 4,982.0 kB | [list of files] |
| armhf | 0.8.2-4 | 583.2 kB | 3,314.0 kB | [list of files] |
| hppa (unofficial port) | 0.8.2-4+b1 | 540.1 kB | 7,918.0 kB | [list of files] |
| i386 | 0.8.2-4+b1 | 712.4 kB | 5,878.0 kB | [list of files] |
| m68k (unofficial port) | 0.8.2-4+b1 | 787.2 kB | 5,953.0 kB | [list of files] |
| mips64el | 0.8.2-4+b1 | 606.2 kB | 7,308.0 kB | [list of files] |
| mipsel | 0.8.2-4+b1 | 540.7 kB | 6,846.0 kB | [list of files] |
| ppc64 (unofficial port) | 0.8.2-4+b1 | 747.8 kB | 7,566.0 kB | [list of files] |
| ppc64el | 0.8.2-4+b1 | 768.4 kB | 6,662.0 kB | [list of files] |
| riscv64 (unofficial port) | 0.8.2-4+b1 | 829.1 kB | 4,136.0 kB | [list of files] |
| s390x | 0.8.2-4+b1 | 656.1 kB | 5,438.0 kB | [list of files] |
| sh4 (unofficial port) | 0.8.2-4+b1 | 718.3 kB | 5,188.0 kB | [list of files] |
| sparc64 (unofficial port) | 0.8.2-4+b1 | 717.7 kB | 6,061.0 kB | [list of files] |
| x32 (unofficial port) | 0.8.2-4+b1 | 726.3 kB | 5,077.0 kB | [list of files] |