Package: diskscan (0.13-1)
Links for diskscan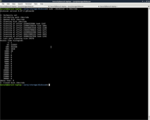 Debian Resources:
Download Source Package diskscan:
Maintainer:
External Resources:
Similar packages:
scan HDD/SSD for bad or near failure sectors
diskscan is intended to check a disk (hard disk, flash drive, pendrive etc) and find any bad sectors already present and assess it for any possible sectors that are in the process of going bad.
The operation is all read-only and doesn't causes damage to the data on the disk. As the program reads block device sectors it will work whether there is a filesystem or not.
diskscan reads the entire block device and notes the time it took to read a block. When there is an error it is immediately noted and also when there is a higher latency to read a block. A histogram of the block latency times is also given to assess the health of the disk.
diskscan also can be used to test the speed and quality of the removable / solid / portable medias, as flash drives. A good media will have all yours sectors read in the same speed.
Other Packages Related to diskscan
dep:

libc6 (>= 2.17) [ppc64]

Embedded GNU C Library: Shared libraries
also a virtual package provided by libc6-udeb

dep:

libc6 (>= 2.7) [not alpha, ppc64]

dep:

libc6.1 (>= 2.7) [alpha]

Package not available
enh:

f3

test real flash memory capacity