Package: lostirc (0.4.6-4.2 and others)
Links for lostirc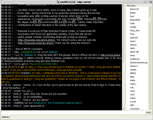 Debian Resources:
Download Source Package lostirc:
Maintainer:
External Resources:
Similar packages:
simple gtk-based IRC client
LostIRC is a simple, yet very useful IRC-client. It has features such as tab-autocompletion, multiple server support, automatic joining of servers/channels and DCC sending which should cover the needs of most people. The client is 100% keyboard-controllable, and uses the gtkmm GUI library.
Other Packages Related to lostirc
dep:

libatk1.0-0 (>= 1.12.4)

ATK accessibility toolkit

dep:

libatkmm-1.6-1v5 (>= 2.24.0)

C++ wrappers for ATK accessibility toolkit (shared libraries)

dep:

libc6.1 (>= 2.2) [alpha]

GNU C Library: Shared libraries
also a virtual package provided by libc6.1-udeb

dep:

libcairo2 (>= 1.2.4)

Cairo 2D vector graphics library

dep:

libcairomm-1.0-1v5 (>= 1.12.0)

C++ wrappers for Cairo (shared libraries)

dep:

libfontconfig1 (>= 2.11) [alpha, hppa, m68k, ppc64, sparc64]

generic font configuration library - runtime

dep:

libfontconfig1 (>= 2.12) [sh4]

dep:

libfontconfig1 (>= 2.12.6) [not alpha, hppa, m68k, ppc64, sh4, sparc64]

dep:

libfreetype6 (>= 2.2.1)

FreeType 2 font engine, shared library files

dep:

libfribidi0 (>= 0.19.2) [riscv64]

Free Implementation of the Unicode BiDi algorithm

dep:

libgcc1 (>= 1:3.0) [not armel, armhf, hppa, m68k, riscv64]

Package not available

dep:

libgcc1 (>= 1:3.5) [armel, armhf]

dep:

libgcc1 (>= 1:4.3) [riscv64]

dep:

libgcc2 (>= 4.2.1) [m68k]

Package not available

dep:

libgcc4 (>= 4.1.1) [hppa]

Package not available

dep:

libgdk-pixbuf2.0-0 (>= 2.22.0)

GDK Pixbuf library (transitional package)

dep:

libglib2.0-0 (>= 2.16.0)

GLib library of C routines

dep:

libglibmm-2.4-1v5 (>= 2.50.0) [alpha, hppa, m68k, ppc64, sh4, sparc64]

C++ wrapper for the GLib toolkit (shared libraries)

dep:

libglibmm-2.4-1v5 (>= 2.54.0) [not alpha, hppa, m68k, ppc64, sh4, sparc64]

dep:

libgtk2.0-0 (>= 2.8.0)

GTK graphical user interface library - old version

dep:

libgtkmm-2.4-1v5 (>= 1:2.24.0)

C++ wrappers for GTK+ 2 (shared libraries)

dep:

libpango-1.0-0 (>= 1.14.0)

Layout and rendering of internationalized text

dep:

libpangocairo-1.0-0 (>= 1.14.0)

Layout and rendering of internationalized text

dep:

libpangoft2-1.0-0 (>= 1.14.0)

Layout and rendering of internationalized text

dep:

libpangomm-1.4-1v5 (>= 2.40.0) [alpha, hppa, m68k, ppc64, riscv64, sh4, sparc64]

C++ Wrapper for pango (shared libraries)

dep:

libpangomm-1.4-1v5 (>= 2.42.0) [not alpha, hppa, m68k, ppc64, riscv64, sh4, sparc64]

dep:

libsigc++-2.0-0v5 (>= 2.8.0)

type-safe Signal Framework for C++ - runtime

dep:

libstdc++6 [riscv64]

GNU Standard C++ Library v3

dep:

libstdc++6 (>= 5.2) [not riscv64]