Package: tellico (3.4.6-1 and others)
Links for tellico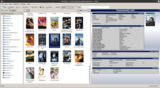 Debian Resources:
Download Source Package tellico:
Maintainers:
External Resources:
Similar packages:
Collection manager for books, videos, music, etc
Tellico is a collection manager for KDE. It includes default collections for books, bibliographies, comic books, videos, music, coins, stamps, trading cards, and wines.
Tellico capabilities include:

  * creation of user-defined custom collections with unlimited fields,
  * automatically formatted names,
  * sorting and filtering by any field or property,
  * ISBN validation,
  * full customization for printing or display through XSLT files,
  * import and export of CSV, RIS, BibTeX and BibTeXML files,
  * import data from Amazon, IMDb, CDDB or any US-MARC compliant z39.50 server.

Tellico files are stored in XML format, avoiding the need for a database server, and allowing other software applications to use the data.
Other Packages Related to tellico
dep:

kio

resource and network access abstraction

dep:

libbtparse1 (>= 0.62) [sparc64]

Package not available

dep:

libbtparse2 (>= 0.62) [not sparc64]

C library to parse BibTeX files

dep:

libc6 (>= 2.33) [sh4]

GNU C Library: Shared libraries
also a virtual package provided by libc6-udeb

dep:

libc6 (>= 2.34) [not alpha, ia64, sh4, sparc64]

dep:

libc6 (>= 2.4) [sparc64]

dep:

libc6.1 (>= 2.33) [ia64]

GNU C Library: Shared libraries
also a virtual package provided by libc6.1-udeb

dep:

libc6.1 (>= 2.34) [alpha]

dep:

libcdio17 (>= 1.0.0) [sparc64]

Package not available

dep:

libcdio19 (>= 2.1.0) [not sparc64]

library to read and control CD-ROM

dep:

libcsv3 (>= 3.0.3)

CSV parser and writer library

dep:

libexempi3 (>= 2.4.0) [sparc64]

Package not available

dep:

libexempi8 (>= 2.5.0) [not sparc64]

library to parse XMP metadata (Library)

dep:

libgcc-s1 (>= 3.4) [alpha, riscv64, sh4]

GCC support library

dep:

libgcc-s1 (>= 3.5) [armel, armhf]

dep:

libgcc-s1 (>= 4.2) [i386, ia64, mipsel]

dep:

libgcc-s2 (>= 4.2.1) [m68k]

GCC support library

dep:

libgcc-s4 (>= 4.1.1) [hppa]

GCC support library

dep:

libgcc1 (>= 1:3.4) [sparc64]

Package not available

dep:

libkf5archive5 (>= 4.96.0)

Qt 5 addon providing access to numerous types of archives

dep:

libkf5cddb5 (>= 4:17.08.3)

CDDB library for KDE Platform (runtime)

dep:

libkf5codecs5 (>= 4.96.0)

collection of methods to manipulate strings

dep:

libkf5completion5 (>= 4.97.0)

Widgets with advanced auto-completion features.

dep:

libkf5configcore5 (>= 4.98.0)

configuration settings framework for Qt

dep:

libkf5configgui5 (>= 4.97.0)

configuration settings framework for Qt

dep:

libkf5configwidgets5 (>= 4.98.0) [sparc64]

Extra widgets for easier configuration support.

dep:

libkf5configwidgets5 (>= 5.61.0) [not sparc64]

dep:

libkf5coreaddons5 (>= 5.16.0) [not ia64, sh4, sparc64]

KDE Frameworks 5 addons to QtCore

dep:

libkf5coreaddons5 (>= 5.2.0) [ia64, sh4, sparc64]

dep:

libkf5crash5 (>= 5.15.0)

Support for application crash analysis and bug report from apps

dep:

libkf5filemetadata3 (>= 5.0.2+git20140925)

library for extracting file metadata

dep:

libkf5guiaddons5 (>= 4.96.0)

additional addons for QtGui

dep:

libkf5i18n5 (>= 4.97.0)

Advanced internationalization framework.

dep:

libkf5iconthemes5 (>= 4.96.0)

Support for icon themes.

dep:

libkf5itemmodels5 (>= 4.96.0)

additional item/view models for Qt Itemview

dep:

libkf5jobwidgets5 (>= 4.96.0)

Widgets for tracking KJob instances

dep:

libkf5khtml5 (>= 4.96.0) [not amd64, arm64, armhf, i386, mipsel]

HTML widget and component

dep:

libkf5kiocore5 (>= 4.96.0) [sparc64]

resource and network access abstraction (KIO core library)

dep:

libkf5kiocore5 (>= 5.69.0) [not sparc64]

dep:

libkf5kiofilewidgets5 (>= 4.96.0) [sparc64]

resource and network access abstraction (KIO file widgets library)

dep:

libkf5kiofilewidgets5 (>= 5.69.0) [not sparc64]

dep:

libkf5kiogui5 [sparc64]

resource and network access abstraction (KIO gui library)

dep:

libkf5kiogui5 (>= 5.69.0) [not sparc64]

dep:

libkf5kiowidgets5 (>= 4.96.0) [sparc64]

resource and network access abstraction (KIO widgets library)

dep:

libkf5kiowidgets5 (>= 5.69.0) [not sparc64]

dep:

libkf5newstuff5 (>= 5.27.0)

Support for downloading application assets from the network.

dep:

libkf5parts5 (>= 4.96.0) [not amd64, arm64, armhf, i386, mipsel]

Document centric plugin system.

dep:

libkf5sane5 (>= 21.08.0) [ia64, sh4, x32]

scanner library (runtime)

dep:

libkf5sane5 (>= 4.3.4) [sparc64]

dep:

libkf5service-bin

Advanced plugin and service introspection

dep:

libkf5service5 (>= 4.99.0) [sparc64]

Advanced plugin and service introspection

dep:

libkf5service5 (>= 5.69.0) [not sparc64]

dep:

libkf5solid5 (>= 4.97.0)

Qt library to query and control hardware

dep:

libkf5sonnetcore5 (>= 4.96.0)

spell checking library for Qt, core lib

dep:

libkf5sonnetui5 (>= 4.96.0) [sparc64]

spell checking library for Qt, ui lib

dep:

libkf5sonnetui5 (>= 5.69.0) [not sparc64]

dep:

libkf5textwidgets5 (>= 4.96.0)

Advanced text editing widgets.

dep:

libkf5wallet-bin

Secure and unified container for user passwords.

dep:

libkf5wallet5 (>= 4.96.0)

Secure and unified container for user passwords.

dep:

libkf5widgetsaddons5 (>= 4.96.0) [sparc64]

add-on widgets and classes for applications that use the Qt Widgets module

dep:

libkf5widgetsaddons5 (>= 5.78.0) [not sparc64]

dep:

libkf5windowsystem5 (>= 4.96.0)

Convenience access to certain properties and features of the window manager

dep:

libkf5xmlgui5 (>= 4.98.0)

User configurable main windows.

dep:

libpoppler-qt5-1 (>= 0.24.5)

PDF rendering library (Qt 5 based shared library)

dep:

libqt5charts5 (>= 5.14.1) [sh4, x32]

Qt charts shared library

dep:

libqt5charts5 (>= 5.7.1) [not sh4, sparc64, x32]

dep:

libqt5core5a (>= 5.15.1) [not sparc64]

Qt 5 core module

dep:

libqt5core5a (>= 5.8.0) [sparc64]

dep:

libqt5dbus5 (>= 5.0.2) [sparc64]

Qt 5 D-Bus module

dep:

libqt5dbus5 (>= 5.4.0~) [not sparc64]

dep:

libqt5gui5 (>= 5.11.0~rc1) [not sparc64]

Qt 5 GUI module

or libqt5gui5-gles (>= 5.11.0~rc1)

Qt 5 GUI module — OpenGL ES variant

dep:

libqt5gui5 (>= 5.7.0) [sparc64]

Qt 5 GUI module

dep:

libqt5network5 (>= 5.0.2) [sparc64]

Qt 5 network module

dep:

libqt5network5 (>= 5.15.1) [not sparc64]

dep:

libqt5printsupport5 (>= 5.4.0~) [not sparc64]

Qt 5 print support module

dep:

libqt5webenginewidgets5 (>= 5.14.1) [amd64, arm64, armhf, i386, mipsel]

Web content engine library for Qt - Widget

dep:

libqt5widgets5 (>= 5.15.1) [not sparc64]

Qt 5 widgets module

dep:

libqt5widgets5 (>= 5.6.0~beta) [sparc64]

dep:

libqt5xml5 (>= 5.1.0) [sparc64]

Qt 5 XML module

dep:

libqt5xml5 (>= 5.4.0~) [not sparc64]

dep:

libstdc++6 (>= 11) [not sparc64]

GNU Standard C++ Library v3

dep:

libstdc++6 (>= 5.2) [sparc64]

dep:

libtag1v5 (>= 1.11) [not sparc64]

audio meta-data library

dep:

libtag1v5 (>= 1.9.1-2.2~) [sparc64]

dep:

libxml2 (>= 2.7.4)

GNOME XML library

dep:

libxslt1.1 (>= 1.1.25)

XSLT 1.0 processing library - runtime library

dep:

libyaz4 (>= 4.0.1) [sparc64]

Package not available

dep:

libyaz5 (>= 5.27.1) [not sparc64]

Z39.50/SRW/SRU toolkit (libraries)

dep:

tellico-data (= 3.1.2-0.1) [sparc64]

Collection manager for books, videos, music, etc [data]

dep:

tellico-data (= 3.4.3-1) [ia64, sh4]

dep:

tellico-data (= 3.4.5-1) [x32]

dep:

tellico-data (= 3.4.6-1) [not ia64, sh4, sparc64, x32]

dep:

tellico-scripts (>= 3.1.2-0.1) [sparc64]

Collection manager for books, videos, music, etc [scripts]

dep:

tellico-scripts (>= 3.4.3-1) [ia64, sh4]

dep:

tellico-scripts (>= 3.4.5-1) [x32]

dep:

tellico-scripts (>= 3.4.6-1) [not ia64, sh4, sparc64, x32]
rec:

kio-extras [not sparc64]

Extra functionality for kioslaves.

rec:

tellico-doc

Collection manager for books, videos, music, etc [doc]
Download tellico
Download for all available architectures

| Architecture | Version | Package Size | Installed Size | Files |
| --- | --- | --- | --- | --- |
| alpha (unofficial port) | 3.4.6-1 | 1,287.3 kB | 6,369.0 kB | [list of files] |
| amd64 | 3.4.6-1 | 1,348.2 kB | 4,914.0 kB | [list of files] |
| arm64 | 3.4.6-1 | 1,322.3 kB | 5,019.0 kB | [list of files] |
| armel | 3.4.6-1 | 1,218.4 kB | 4,329.0 kB | [list of files] |
| armhf | 3.4.6-1 | 1,217.4 kB | 3,461.0 kB | [list of files] |
| hppa (unofficial port) | 3.4.6-1 | 1,322.6 kB | 5,225.0 kB | [list of files] |
| i386 | 3.4.6-1 | 1,511.1 kB | 5,640.0 kB | [list of files] |
| ia64 (unofficial port) | 3.4.3-1 | 1,554.9 kB | 10,305.0 kB | [list of files] |
| m68k (unofficial port) | 3.4.6-1 | 1,272.5 kB | 4,428.0 kB | [list of files] |
| mips64el | 3.4.6-1 | 1,116.6 kB | 6,005.0 kB | [list of files] |
| mipsel | 3.4.6-1 | 1,110.4 kB | 5,667.0 kB | [list of files] |
| ppc64 (unofficial port) | 3.4.6-1 | 1,346.7 kB | 6,839.0 kB | [list of files] |
| ppc64el | 3.4.6-1 | 1,372.5 kB | 6,486.0 kB | [list of files] |
| riscv64 (unofficial port) | 3.4.6-1 | 1,239.9 kB | 3,766.0 kB | [list of files] |
| s390x | 3.4.6-1 | 1,219.4 kB | 5,270.0 kB | [list of files] |
| sh4 (unofficial port) | 3.4.3-1 | 1,464.9 kB | 3,948.0 kB | [list of files] |
| sparc64 (unofficial port) | 3.1.2-0.1 | 970.3 kB | 4,715.0 kB | [list of files] |
| x32 (unofficial port) | 3.4.5-1 | 1,358.2 kB | 4,457.0 kB | [list of files] |