Package: libglpk-java (1.12.0-2 and others)
Links for libglpk-java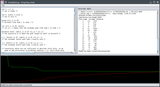 Debian Resources:
Download Source Package glpk-java:
Maintainers:
External Resources:
Similar packages:
Java binding to the GNU Linear Programming Kit
GLPK (GNU Linear Programming Kit) is intended for solving large-scale linear programming (LP), mixed integer programming (MIP), and other related problems. It is a set of routines written in ANSI C and organized in the form of a callable library.
GLPK supports the GNU MathProg language, which is a subset of the AMPL language. GLPK also supports the standard MPS and LP formats.
This package contains the Java binding to GLPK.
Other Packages Related to libglpk-java
dep:

java-gcj-compat [hppa]

Package not available

dep:

libc6.1 (>= 2.11) [alpha]

GNU C Library: Shared libraries
also a virtual package provided by libc6.1-udeb

dep:

libc6.1 (>= 2.31) [ia64]

dep:

libglpk0 (>= 4.43) [hppa]

Package not available

dep:

libglpk40 (>= 4.65) [not hppa]

linear programming kit with integer (MIP) support
Download libglpk-java
Download for all available architectures

| Architecture | Version | Package Size | Installed Size | Files |
| --- | --- | --- | --- | --- |
| alpha (unofficial port) | 1.12.0-2 | 1,060.6 kB | 2,170.0 kB | [list of files] |
| amd64 | 1.12.0-2 | 1,061.1 kB | 1,893.0 kB | [list of files] |
| arm64 | 1.12.0-2 | 1,052.9 kB | 1,986.0 kB | [list of files] |
| armel | 1.12.0-2 | 1,055.7 kB | 1,749.0 kB | [list of files] |
| armhf | 1.12.0-2 | 1,053.1 kB | 1,668.0 kB | [list of files] |
| hppa (unofficial port) | 1.0.13-4 | 193.6 kB | 904.0 kB | [list of files] |
| i386 | 1.12.0-2 | 1,063.3 kB | 1,845.0 kB | [list of files] |
| ia64 (unofficial port) | 1.12.0-2 | 1,066.8 kB | 2,661.0 kB | [list of files] |
| m68k (unofficial port) | 1.12.0-2 | 1,059.5 kB | 1,853.0 kB | [list of files] |
| mips64el | 1.12.0-2 | 1,044.7 kB | 2,020.0 kB | [list of files] |
| mipsel | 1.12.0-2 | 1,050.4 kB | 1,836.0 kB | [list of files] |
| ppc64 (unofficial port) | 1.12.0-2 | 1,062.3 kB | 2,217.0 kB | [list of files] |
| ppc64el | 1.12.0-2 | 1,058.8 kB | 2,118.0 kB | [list of files] |
| riscv64 (unofficial port) | 1.12.0-2 | 1,119.6 kB | 2,967.0 kB | [list of files] |
| s390x | 1.12.0-2 | 1,064.2 kB | 1,991.0 kB | [list of files] |
| sh4 (unofficial port) | 1.12.0-2 | 1,052.6 kB | 1,752.0 kB | [list of files] |
| sparc64 (unofficial port) | 1.12.0-2 | 1,051.5 kB | 1,990.0 kB | [list of files] |
| x32 (unofficial port) | 1.12.0-2 | 1,063.3 kB | 1,774.0 kB | [list of files] |