Package: tlf (1.4.1-5 and others)
Links for tlf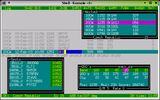 Debian Resources:
Download Source Package tlf:
Maintainers:
External Resources:
Similar packages:
console based ham radio contest logger
TLF is a curses based console mode general logging and contest program for amateur radio.
It supports the CQWW, the WPX, the ARRL-DX, the ARRL-FD, the PACC and the EU SPRINT shortwave contests (single operator) as well as a lot more basic contests, general QSO and DXpedition mode.
It interfaces with cwdaemon or winkeyer daemon for morse code generation and with your sound card for CW/VOICE keying, connects to a number of radios via the Hamlib library and has a built-in client for DX cluster connection.
Other Packages Related to tlf