Package: klog (0.9.3-1 and others)
Links for klog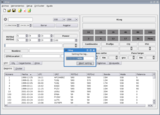 Debian Resources:
Download Source Package klog:
Maintainer:
External Resources:
Similar packages:
Multiplatform ham radio logging program
This package provides a ham radio logging program. This application supports logging for HF and VHF operations. It supports many features like QSL, DXCC, IOTA, WAZ and awards. KLog imports from TLF and produces ADIF as default file format. This application also includes a DX-Cluster client fully integrated into the main interface. KLog can run in Linux, OSX & Windows systems.
Other Packages Related to klog
Download klog
Download for all available architectures

| Architecture | Version | Package Size | Installed Size | Files |
| --- | --- | --- | --- | --- |
| alpha (unofficial port) | 0.9.3-1 | 1,029.0 kB | 3,895.0 kB | [list of files] |
| amd64 | 0.9.3-1 | 1,034.7 kB | 3,173.0 kB | [list of files] |
| arm64 | 0.9.3-1 | 995.3 kB | 3,185.0 kB | [list of files] |
| armel | 0.9.3-1 | 967.1 kB | 2,960.0 kB | [list of files] |
| armhf | 0.9.3-1 | 977.4 kB | 2,628.0 kB | [list of files] |
| hppa (unofficial port) | 0.9.3-1 | 1,018.5 kB | 3,752.0 kB | [list of files] |
| hurd-i386 | 0.9.3-1 | 1,062.7 kB | 3,252.0 kB | [list of files] |
| i386 | 0.9.3-1 | 1,070.5 kB | 3,212.0 kB | [list of files] |
| kfreebsd-amd64 | 0.9.2.6-1 | 764.9 kB | 2,152.0 kB | [list of files] |
| kfreebsd-i386 | 0.9.2.6-1 | 775.2 kB | 2,220.0 kB | [list of files] |
| m68k (unofficial port) | 0.9.3-1 | 1,011.7 kB | 3,136.0 kB | [list of files] |
| mips | 0.9.3-1 | 936.1 kB | 3,751.0 kB | [list of files] |
| mips64el | 0.9.3-1 | 939.1 kB | 3,712.0 kB | [list of files] |
| mipsel | 0.9.3-1 | 945.4 kB | 3,751.0 kB | [list of files] |
| powerpcspe (unofficial port) | 0.9.3-1 | 986.3 kB | 3,336.0 kB | [list of files] |
| ppc64 (unofficial port) | 0.9.3-1 | 1,010.1 kB | 3,721.0 kB | [list of files] |
| ppc64el | 0.9.3-1 | 1,018.6 kB | 3,593.0 kB | [list of files] |
| s390x | 0.9.3-1 | 979.1 kB | 3,281.0 kB | [list of files] |
| sh4 (unofficial port) | 0.9.3-1 | 1,135.6 kB | 3,219.0 kB | [list of files] |
| sparc64 (unofficial port) | 0.9.3-1 | 938.0 kB | 3,261.0 kB | [list of files] |
| x32 (unofficial port) | 0.9.3-1 | 1,037.7 kB | 3,092.0 kB | [list of files] |