Package: gtk-3-examples (3.24.13-1 and others)
Links for gtk-3-examples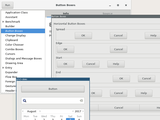 Debian Resources:
Download Source Package gtk+3.0:
Maintainers:
External Resources:
Similar packages:
example files for GTK 3
GTK is a multi-platform toolkit for creating graphical user interfaces. Offering a complete set of widgets, GTK is suitable for projects ranging from small one-off tools to complete application suites.
This package contains the example files and a demonstration program for GTK3. It also contains the installed tests.
Other Packages Related to gtk-3-examples
Download gtk-3-examples
Download for all available architectures

| Architecture | Version | Package Size | Installed Size | Files |
| --- | --- | --- | --- | --- |
| alpha (unofficial port) | 3.24.13-1 | 1,617.4 kB | 14,344.0 kB | [list of files] |
| amd64 | 3.24.13-1 | 1,628.1 kB | 14,292.0 kB | [list of files] |
| arm64 | 3.24.13-1 | 1,592.7 kB | 14,048.0 kB | [list of files] |
| armel | 3.24.13-1 | 1,585.5 kB | 13,730.0 kB | [list of files] |
| armhf | 3.24.13-1 | 1,593.4 kB | 13,466.0 kB | [list of files] |
| hppa (unofficial port) | 3.24.13-1 | 1,591.5 kB | 13,872.0 kB | [list of files] |
| i386 | 3.24.13-1 | 1,640.1 kB | 14,265.0 kB | [list of files] |
| m68k (unofficial port) | 3.24.13-1 | 1,604.6 kB | 13,945.0 kB | [list of files] |
| mips64el | 3.24.13-1 | 1,575.3 kB | 14,171.0 kB | [list of files] |
| mipsel | 3.24.13-1 | 1,576.5 kB | 13,969.0 kB | [list of files] |
| powerpcspe (unofficial port) | 3.24.5-1 | 1,715.0 kB | 17,091.0 kB | [list of files] |
| ppc64 (unofficial port) | 3.24.13-1 | 1,630.4 kB | 17,681.0 kB | [list of files] |
| ppc64el | 3.24.13-1 | 1,630.4 kB | 17,617.0 kB | [list of files] |
| riscv64 (unofficial port) | 3.24.13-1 | 1,577.0 kB | 13,751.0 kB | [list of files] |
| s390x | 3.24.13-1 | 1,588.1 kB | 14,096.0 kB | [list of files] |
| sh4 (unofficial port) | 3.24.13-1 | 1,646.0 kB | 13,715.0 kB | [list of files] |
| sparc64 (unofficial port) | 3.24.13-1 | 1,556.3 kB | 14,212.0 kB | [list of files] |
| x32 (unofficial port) | 3.24.13-1 | 1,626.8 kB | 14,029.0 kB | [list of files] |