Package: kino (1.3.4+dfsg0-1)
Links for kino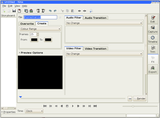 Debian Resources:
Download Source Package kino:
Maintainer:
External Resources:
Similar packages:
Non-linear editor for Digital Video data
Kino allows you to record, create, edit, and play movies recorded with DV camcorders. This program uses many keyboard commands for fast navigating and editing inside the movie.
The kino-timfx, kino-dvtitler and kinoplus sets of plugins, formerly distributed as separate packages, are now provided with Kino.
Other Packages Related to kino
rec:

curl

command line tool for transferring data with URL syntax

rec:

ffmpeg

Tools for transcoding, streaming and playing of multimedia files
Download kino
Download for all available architectures

| Architecture | Package Size | Installed Size | Files |
| --- | --- | --- | --- |
| alpha (unofficial port) | 4,136.1 kB | 8,375.0 kB | [list of files] |
| amd64 | 4,129.2 kB | 8,109.0 kB | [list of files] |
| arm64 | 4,083.8 kB | 8,041.0 kB | [list of files] |
| armel | 4,062.8 kB | 7,875.0 kB | [list of files] |
| armhf | 4,066.2 kB | 7,651.0 kB | [list of files] |
| hppa (unofficial port) | 4,136.3 kB | 8,152.0 kB | [list of files] |
| i386 | 4,161.4 kB | 8,180.0 kB | [list of files] |
| m68k (unofficial port) | 4,079.7 kB | 8,070.0 kB | [list of files] |
| mips | 4,077.9 kB | 8,255.0 kB | [list of files] |
| mips64el | 4,076.9 kB | 8,340.0 kB | [list of files] |
| mipsel | 4,081.4 kB | 8,247.0 kB | [list of files] |
| powerpcspe (unofficial port) | 4,105.5 kB | 8,157.0 kB | [list of files] |
| ppc64 (unofficial port) | 4,138.5 kB | 8,629.0 kB | [list of files] |
| ppc64el | 4,141.9 kB | 8,485.0 kB | [list of files] |
| riscv64 (unofficial port) | 4,106.6 kB | 7,884.0 kB | [list of files] |
| s390x | 4,088.7 kB | 8,154.0 kB | [list of files] |
| sh4 (unofficial port) | 4,139.8 kB | 7,956.0 kB | [list of files] |
| sparc64 (unofficial port) | 4,077.0 kB | 8,129.0 kB | [list of files] |
| x32 (unofficial port) | 4,118.1 kB | 7,985.0 kB | [list of files] |