Package: ipe (7.2.26+dfsg1-3 and others)
Links for ipe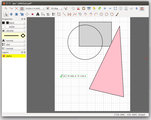 Debian Resources:
Download Source Package ipe:
Maintainers:
External Resources:
Similar packages:
drawing editor for creating figures in PDF or PS formats
Ipe supports making small figures for inclusion into LaTeX documents as well as making multi-page PDF presentations Ipe's main features are:

 * Entry of text as LaTeX source code. This makes it easy to enter
   mathematical expressions, and to reuse the LaTeX-macros of the main
   document.  In the display text is displayed as it will appear in
   the figure.
 * Produces pure Postscript/PDF, including the text. Ipe converts the
   LaTeX-source to PDF or Postscript when the file is saved.
 * It is easy to align objects with respect to each other (for
   instance, to place a point on the intersection of two lines, or to
   draw a circle through three given points) using various snapping
   modes.
 * Users can provide ipelets (Ipe plug-ins) to add functionality to
   Ipe.  This way, Ipe can be extended for each task at hand.
 * The text model is based on Unicode, and has been tested with Korean,
    Chinese, and Japanese.

Package lua5.3 is recommended if using Ipe with LaTeX.
Package texlive-latex-recommended enables unicode text entry (for accented characters).
Other Packages Related to ipe
rec:

lua5.3

Simple, extensible, embeddable programming language
TeX Live: LaTeX recommended packages
Download ipe
Download for all available architectures

| Architecture | Version | Package Size | Installed Size | Files |
| --- | --- | --- | --- | --- |
| alpha (unofficial port) | 7.2.26+dfsg1-3+b1 | 554.2 kB | 7,583.0 kB | [list of files] |
| amd64 | 7.2.26+dfsg1-3+b1 | 552.7 kB | 7,250.0 kB | [list of files] |
| arm64 | 7.2.26+dfsg1-3+b1 | 542.1 kB | 7,514.0 kB | [list of files] |
| armel | 7.2.26+dfsg1-3+b1 | 533.2 kB | 7,147.0 kB | [list of files] |
| armhf | 7.2.26+dfsg1-3+b1 | 535.1 kB | 7,075.0 kB | [list of files] |
| hppa (unofficial port) | 7.2.26+dfsg1-3+b1 | 558.5 kB | 7,267.0 kB | [list of files] |
| i386 | 7.2.26+dfsg1-3+b1 | 561.7 kB | 7,219.0 kB | [list of files] |
| ia64 (unofficial port) | 7.2.26+dfsg1-3+b1 | 569.9 kB | 7,519.0 kB | [list of files] |
| m68k (unofficial port) | 7.2.26+dfsg1-3+b1 | 562.1 kB | 7,243.0 kB | [list of files] |
| mips64el | 7.2.26+dfsg1-3+b1 | 549.7 kB | 7,605.0 kB | [list of files] |
| mipsel | 7.2.26+dfsg1-3+b1 | 549.9 kB | 7,531.0 kB | [list of files] |
| ppc64 (unofficial port) | 7.2.26+dfsg1-3+b1 | 555.4 kB | 7,578.0 kB | [list of files] |
| ppc64el | 7.2.26+dfsg1-3+b1 | 556.3 kB | 7,578.0 kB | [list of files] |
| riscv64 (unofficial port) | 7.2.26+dfsg1-3+b1 | 547.2 kB | 7,180.0 kB | [list of files] |
| s390x | 7.2.26+dfsg1-3+b1 | 543.7 kB | 7,238.0 kB | [list of files] |
| sh4 (unofficial port) | 7.2.26+dfsg1-3+b1 | 569.7 kB | 7,510.0 kB | [list of files] |
| sparc64 (unofficial port) | 7.2.26+dfsg1-3+b1 | 537.2 kB | 14,003.0 kB | [list of files] |
| x32 (unofficial port) | 7.2.26+dfsg1-3+b1 | 554.5 kB | 7,191.0 kB | [list of files] |