Package: liferea (1.10.8-1 and others)
Links for liferea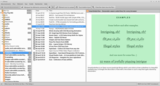 Debian Resources:
Download Source Package liferea:
Maintainers:
External Resources:
Similar packages:
news aggregator for online news feeds
Liferea is a simple FeedReader clone. It is a reader for RSS/RDF feeds which also supports CDF channels, Atom/Echo/PIE feeds and OCS directories. Google Reader and TinyTinyRSS synchronization is supported so that you can synchronize your feeds and (un)read items across multiple devices automatically. It also supports social networking / web integration so you can share your favorite news articles to Facebook, Google+, Reddit, Twitter, Slashdot, Digg, Yahoo and many more.
Liferea is an abbreviation for Linux Feed Reader.
Other Packages Related to liferea
dep:

dconf-gsettings-backend [not m68k, sh4, sparc64]

simple configuration storage system - GSettings back-end
virtual package provided by dconf-gsettings-backend, gconf-gsettings-backend

dep:

gconf-service [sh4]

GNOME configuration database system (D-Bus service)

dep:

gconf2 (>= 2.10.1-2) [m68k]

GNOME configuration database system (support tools)

dep:

gconf2 (>= 2.28.1-2) [sh4, sparc64]

dep:

gir1.2-gtk-3.0 [not m68k, sh4, sparc64]

GTK+ graphical user interface library -- gir bindings

dep:

gir1.2-peas-1.0 [not m68k, sh4, sparc64]

Application plugin library (introspection files)

dep:

libatk1.0-0 (>= 1.12.4) [not m68k]

ATK accessibility toolkit

dep:

libatk1.0-0 (>= 1.20.0) [m68k]

dep:

libc0.1 (>= 2.17-91) [kfreebsd-amd64, kfreebsd-i386]

Embedded GNU C Library: Shared libraries
also a virtual package provided by libc0.1-udeb

dep:

libc0.3 (>= 2.7) [hurd-i386]

Embedded GNU C Library: Shared libraries
also a virtual package provided by libc0.3-udeb

dep:

libc6.1 (>= 2.7) [alpha]

Package not available

dep:

libcairo2 (>= 1.2.4)

The Cairo 2D vector graphics library

dep:

libdbus-1-3 (>= 1.0.2) [sparc64]

simple interprocess messaging system (library)

dep:

libdbus-glib-1-2 (>= 0.74) [m68k]

simple interprocess messaging system (GLib-based shared library)

dep:

libdbus-glib-1-2 (>= 0.88) [sparc64]

dep:

libgcc2 (>= 4.2.1-1) [m68k]

GCC support library

dep:

libgconf-2-4 (>= 2.31.1) [sh4]

GNOME configuration database system (shared libraries)

dep:

libgconf2-4 (>= 2.13.5) [m68k]

GNOME configuration database system (dummy package)

dep:

libgconf2-4 (>= 2.31.1) [sparc64]

dep:

libgcrypt11 (>= 1.4.0) [m68k]

LGPL Crypto library - runtime library

dep:

libgdk-pixbuf2.0-0 (>= 2.22.0) [not m68k]

GDK Pixbuf library

dep:

libgirepository-1.0-1 (>= 0.9.3) [not m68k, sh4, sparc64]

Library for handling GObject introspection data (runtime library)

dep:

libglade2-0 (>= 1:2.6.1) [m68k, sparc64]

library to load .glade files at runtime

dep:

libglib2.0-0 (>= 2.16.0) [m68k]

GLib library of C routines

dep:

libglib2.0-0 (>= 2.24.0) [sparc64]

dep:

libglib2.0-0 (>= 2.31.8) [sh4]

dep:

libglib2.0-0 (>= 2.35.9) [powerpcspe, x32]

dep:

libglib2.0-0 (>= 2.37.3) [not m68k, powerpcspe, sh4, sparc64, x32]

dep:

libgnutls26 (>= 2.2.0-0) [m68k]

GNU TLS library - runtime library

dep:

libgtk-3-0 (>= 3.0.0) [not m68k, sh4, sparc64]

GTK+ graphical user interface library

dep:

libgtk2.0-0 (>= 2.12.0) [m68k]

GTK+ graphical user interface library

dep:

libgtk2.0-0 (>= 2.16.0) [sparc64]

dep:

libgtk2.0-0 (>= 2.18.0) [sh4]

dep:

libice6 (>= 1:1.0.0) [m68k, sh4, sparc64]

X11 Inter-Client Exchange library

dep:

libindicate5 (>= 0.4.90) [not m68k, sh4, sparc64]

library for raising indicators via DBus

dep:

libjson-glib-1.0-0 (>= 0.12.0) [not m68k, sparc64]

GLib JSON manipulation library

dep:

liblua5.1-0 [m68k, sparc64]

Shared library for the Lua interpreter version 5.1

dep:

libnm-glib0 [m68k]

Package not available

dep:

libnm-glib2 (>= 0.7.999) [sparc64]

Package not available

dep:

libnotify1 (>= 0.4.4) [m68k]

Package not available

dep:

libnotify1-gtk2.10 [m68k]

Package not available

dep:

libnotify4 (>= 0.7.0) [not m68k]

sends desktop notifications to a notification daemon

dep:

libpango-1.0-0 (>= 1.14.0) [not m68k, sh4, sparc64]

Layout and rendering of internationalized text

dep:

libpango1.0-0 (>= 1.14.0) [sh4, sparc64]

Layout and rendering of internationalized text

dep:

libpango1.0-0 (>= 1.20.2) [m68k]

dep:

libpeas-1.0-0 (>= 1.1.0) [not m68k, sh4, sparc64]

Application plugin library

dep:

libsm6 [m68k, sh4, sparc64]

X11 Session Management library

dep:

libsoup2.4-1 (>= 2.26.1) [sparc64]

HTTP library implementation in C -- Shared library

dep:

libsoup2.4-1 (>= 2.30.0) [sh4]

dep:

libsoup2.4-1 (>= 2.33.92) [not m68k, sh4, sparc64]

dep:

libsqlite3-0 (>= 3.5.8) [m68k]

SQLite 3 shared library

dep:

libsqlite3-0 (>= 3.5.9) [not m68k]

dep:

libstdc++6 (>= 4.1.1-21) [m68k]

GNU Standard C++ Library v3

dep:

libunique-1.0-0 (>= 1.0.0) [sh4]

Library for writing single instance applications - shared libraries

dep:

libwebkit-1.0-2 (>= 1.1.1) [sparc64]

Package not available

dep:

libwebkitgtk-1.0-0 (>= 1.3.10) [sh4]

Web content engine library for GTK+

dep:

libwebkitgtk-3.0-0 (>= 1.3.10) [not m68k, sh4, sparc64]

Web content engine library for GTK+

dep:

libx11-6 [m68k, sparc64]

X11 client-side library

dep:

libxslt1.1 (>= 1.1.18) [m68k]

XSLT 1.0 processing library - runtime library

dep:

libxslt1.1 (>= 1.1.25) [not m68k]

dep:

libxul0d (>= 1.8.1.4) [m68k]

Package not available

dep:

liferea-data (= 1.10.3-1) [powerpcspe, x32]

architecture independent data for liferea

dep:

liferea-data (= 1.10.8-1) [not m68k, powerpcspe, sh4, sparc64, x32]

dep:

liferea-data (= 1.6.5-1.2) [sparc64]

dep:

liferea-data (= 1.8.6-1) [sh4]

dep:

python [not m68k, sh4, sparc64]

interactive high-level object-oriented language (default version)

dep:

python-gi [not m68k, sh4, sparc64]

Python 2.x bindings for gobject-introspection libraries

dep:

zlib1g (>= 1:1.1.4) [m68k]

compression library - runtime
sug:

network-manager

network management framework (daemon and userspace tools)