Package: gnucash (1:4.10-2 and others)
Links for gnucash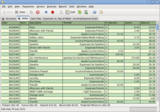 Debian Resources:
Download Source Package gnucash:
Maintainer:
External Resources:
Similar packages:
personal and small-business financial-accounting software
Gnucash provides accounting functions suitable for use by small businesses and individuals. It can track finances in multiple accounts, keeping running and reconciled balances. There is support for customer, vendor and employee processing. It has an X based graphical user interface, double entry, a hierarchy of accounts, expense accounts (categories), and can import Quicken QIF files and OFX files.
Other Packages Related to gnucash
dep:

gnucash-common (= 1:2.6.19-1) [m68k]

common files for the financial-accounting software Gnucash

dep:

gnucash-common (= 1:3.10-1) [ia64]

dep:

gnucash-common (= 1:4.10-1) [ppc64]

dep:

gnucash-common (= 1:4.10-2) [not ia64, m68k, ppc64, sh4, x32]

dep:

gnucash-common (= 1:4.8-1) [sh4, x32]

dep:

guile-2.0 [m68k]

Package not available

dep:

guile-2.0-libs [m68k]

Package not available

dep:

guile-2.2 [ia64]

GNU extension language and Scheme interpreter

or guile-2.0

Package not available

dep:

guile-2.2-libs [ia64]

Core Guile libraries

dep:

guile-3.0-libs [not ia64, m68k]

Core Guile libraries

dep:

libaqbanking35 (>= 5.6.0beta) [m68k]

Package not available

dep:

libaqbanking35-plugins [m68k]

Package not available

dep:

libaqbanking44 (>= 5.99.43) [ia64, sh4, x32]

library for online banking applications

dep:

libaqbanking44 (>= 6.4.0) [not ia64, m68k, sh4, x32]

dep:

libatk1.0-0 (>= 1.12.4) [sparc64]

ATK accessibility toolkit

dep:

libboost-atomic1.74.0 (>= 1.74.0) [sparc64]

atomic data types, operations, and memory ordering constraints

dep:

libboost-chrono1.74.0 (>= 1.74.0) [sparc64]

C++ representation of time duration, time point, and clocks

dep:

libboost-date-time1.67.0 [ia64]

Package not available

dep:

libboost-date-time1.74.0 (>= 1.74.0) [sparc64]

set of date-time libraries based on generic programming concepts

dep:

libboost-filesystem1.67.0 [ia64]

Package not available

dep:

libboost-filesystem1.74.0 (>= 1.74.0) [not ia64, m68k]

filesystem operations (portable paths, iteration over directories, etc) in C++

dep:

libboost-locale1.67.0 [ia64]

Package not available

dep:

libboost-locale1.74.0 (>= 1.74.0) [not ia64, m68k]

C++ facilities for localization

dep:

libboost-program-options1.74.0 (>= 1.74.0) [not ia64, m68k]

program options library for C++

dep:

libboost-regex1.67.0 (>= 1.67.0-10) [ia64]

Package not available

dep:

libboost-regex1.74.0-icu67 [alpha, ppc64, sh4, x32]

virtual package provided by libboost-regex1.74.0

dep:

libboost-regex1.74.0-icu71 [not alpha, ia64, m68k, ppc64, sh4, x32]

virtual package provided by libboost-regex1.74.0

dep:

libboost-system1.67.0 [ia64]

Package not available

dep:

libboost-system1.74.0 (>= 1.74.0) [sparc64]

Operating system (e.g. diagnostics support) library

dep:

libboost-thread1.74.0 (>= 1.74.0) [sparc64]

portable C++ multi-threading

dep:

libc6 (>= 2.32) [sh4, x32]

GNU C Library: Shared libraries
also a virtual package provided by libc6-udeb

dep:

libc6 (>= 2.33) [not alpha, ia64, m68k, sh4, x32]

dep:

libc6 (>= 2.4) [m68k]

dep:

libc6.1 (>= 2.30) [ia64]

GNU C Library: Shared libraries
also a virtual package provided by libc6.1-udeb

dep:

libc6.1 (>= 2.33) [alpha]

dep:

libcairo-gobject2 (>= 1.10.0) [sparc64]

Cairo 2D vector graphics library (GObject library)

dep:

libcairo2 (>= 1.2.4)

Cairo 2D vector graphics library

dep:

libcrypt-ssleay-perl

OpenSSL support for LWP

dep:

libdate-manip-perl

module for manipulating dates

dep:

libdbi1 (>= 0.9.0)

DB Independent Abstraction Layer for C -- shared library

Perl module for retrieving stock quotes from a variety of sources

dep:

libgc1 (>= 1:7.2d) [sparc64]

conservative garbage collector for C and C++

dep:

libgcc-s1 (>= 3.0) [amd64, arm64, mips64el, ppc64, ppc64el, s390x, x32]

GCC support library

dep:

libgcc-s1 (>= 3.4) [alpha, riscv64, sh4, sparc64]

dep:

libgcc-s1 (>= 3.5) [armel, armhf]

dep:

libgcc-s1 (>= 4.2) [ia64, mipsel]

dep:

libgcc-s1 (>= 7) [i386]

dep:

libgcc-s4 (>= 4.1.1) [hppa]

GCC support library

dep:

libgdk-pixbuf-2.0-0 (>= 2.22.0) [not ia64, m68k]

GDK Pixbuf library

dep:

libgdk-pixbuf2.0-0 (>= 2.22.0) [ia64, m68k]

GDK Pixbuf library (transitional package)

dep:

libglib2.0-0 (>= 2.41.1) [m68k]

GLib library of C routines

dep:

libglib2.0-0 (>= 2.45.3) [not m68k]

dep:

libgnomecanvas2-0 (>= 2.11.1) [m68k]

powerful object-oriented display engine - runtime files

dep:

libgoffice-0.8-8 (>= 0.8.8) [m68k]

Package not available

dep:

libgtk-3-0 (>= 3.21.5) [not m68k]

GTK graphical user interface library

dep:

libgtk2.0-0 (>= 2.24.32) [m68k]

GTK graphical user interface library - old version

dep:

libgwengui-gtk2-0 (>= 3.99.16) [m68k]

Package not available

dep:

libgwengui-gtk3-79 (>= 4.99.24) [ia64]

Gwenhywfar GUI implementation for GTK3

dep:

libgwengui-gtk3-79 (>= 5.4.0~) [not ia64, m68k]

dep:

libgwenhywfar60 (>= 3.99.1) [m68k]

Package not available

dep:

libgwenhywfar79 (>= 4.1.0) [not ia64, m68k]

OS abstraction layer

dep:

libgwenhywfar79 (>= 4.99.10beta) [ia64]

dep:

libharfbuzz0b (>= 0.6.0) [sparc64]

OpenType text shaping engine (shared library)

module for extracting the content contained in HTML tables

dep:

libhtml-tree-perl

Perl module to represent and create HTML syntax trees

dep:

libicu63 (>= 63.1-1~) [ia64]

Package not available

dep:

libicu67 (>= 67.1-1~) [alpha, ppc64, sh4, x32]

International Components for Unicode

dep:

libicu71 (>= 71.1-1~) [not alpha, ia64, m68k, ppc64, sh4, x32]

International Components for Unicode

dep:

libjavascriptcoregtk-4.0-18 (>= 2.36.1) [sparc64]

JavaScript engine library from WebKitGTK

dep:

libktoblzcheck1v5 [m68k]

library for verification of account numbers and bank codes

dep:

libofx7 [m68k]

library to support the Open Financial Exchange format

dep:

libofx7 (>= 0.9.14) [not m68k]

dep:

libpango-1.0-0 (>= 1.14.0) [ia64, m68k]

Layout and rendering of internationalized text

dep:

libpango-1.0-0 (>= 1.18.0) [not ia64, m68k]

dep:

libpangocairo-1.0-0 (>= 1.14.0)

Layout and rendering of internationalized text

dep:

libpython2.7 (>= 2.7) [m68k]

Shared Python runtime library (version 2.7)

dep:

libpython3.10 (>= 3.10.0) [not ia64, m68k, sh4, x32]

Shared Python runtime library (version 3.10)

dep:

libpython3.8 (>= 3.8.2) [ia64]

Package not available

dep:

libpython3.9 (>= 3.9.1) [sh4, x32]

Shared Python runtime library (version 3.9)

dep:

libsecret-1-0 (>= 0.7)

Secret store

dep:

libsoup2.4-1 (>= 2.4.0) [sparc64]

HTTP library implementation in C -- Shared library

dep:

libstdc++6 (>= 11) [not ia64, m68k]

GNU Standard C++ Library v3

dep:

libstdc++6 (>= 9) [ia64]

dep:

libunwind8 [ia64]

library to determine the call-chain of a program - runtime

dep:

libwebkit2gtk-4.0-37 (>= 2.15.1) [ia64]

Web content engine library for GTK

dep:

libwebkit2gtk-4.0-37 (>= 2.30.1~) [not ia64, m68k]

dep:

libwebkitgtk-1.0-0 (>= 1.3.10) [m68k]

Package not available

dep:

libwww-perl

simple and consistent interface to the world-wide web

dep:

libx11-6 [m68k]

X11 client-side library

dep:

libxml2 (>= 2.7.4)

GNOME XML library

dep:

libxslt1.1 (>= 1.1.25) [ia64, m68k, sparc64]

XSLT 1.0 processing library - runtime library

dep:

perl

Larry Wall's Practical Extraction and Report Language

dep:

zlib1g (>= 1:1.1.4)

compression library - runtime
Download gnucash
Download for all available architectures

| Architecture | Version | Package Size | Installed Size | Files |
| --- | --- | --- | --- | --- |
| alpha (unofficial port) | 1:4.10-2 | 5,576.5 kB | 34,336.0 kB | [list of files] |
| amd64 | 1:4.10-2+b1 | 5,648.5 kB | 32,613.0 kB | [list of files] |
| arm64 | 1:4.10-2+b1 | 5,400.8 kB | 32,412.0 kB | [list of files] |
| armel | 1:4.10-2+b1 | 5,225.4 kB | 29,673.0 kB | [list of files] |
| armhf | 1:4.10-2+b1 | 5,297.3 kB | 28,093.0 kB | [list of files] |
| hppa (unofficial port) | 1:4.10-2+b1 | 5,609.4 kB | 32,627.0 kB | [list of files] |
| i386 | 1:4.10-2+b1 | 5,812.3 kB | 31,816.0 kB | [list of files] |
| ia64 (unofficial port) | 1:3.10-1 | 4,921.5 kB | 30,950.0 kB | [list of files] |
| m68k (unofficial port) | 1:2.6.19-1 | 3,092.1 kB | 9,509.0 kB | [list of files] |
| mips64el | 1:4.10-2+b1 | 5,197.1 kB | 33,491.0 kB | [list of files] |
| mipsel | 1:4.10-2+b1 | 5,228.6 kB | 31,650.0 kB | [list of files] |
| ppc64 (unofficial port) | 1:4.10-1 | 5,642.0 kB | 36,873.0 kB | [list of files] |
| ppc64el | 1:4.10-2+b1 | 5,674.6 kB | 35,592.0 kB | [list of files] |
| riscv64 (unofficial port) | 1:4.10-2+b1 | 5,385.7 kB | 30,778.0 kB | [list of files] |
| s390x | 1:4.10-2+b1 | 5,371.6 kB | 32,988.0 kB | [list of files] |
| sh4 (unofficial port) | 1:4.8-1 | 5,741.9 kB | 30,097.0 kB | [list of files] |
| sparc64 (unofficial port) | 1:4.10-2+b1 | 5,168.5 kB | 32,453.0 kB | [list of files] |
| x32 (unofficial port) | 1:4.8-1 | 5,549.0 kB | 30,306.0 kB | [list of files] |