Package: gmemusage (0.2-11 and others)
Links for gmemusage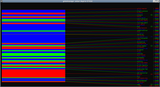 Debian Resources:
Download Source Package gmemusage:
Maintainer:
External Resources:
Similar packages:
Displays a graph detailing memory usage of each process
Gmemusage is a graphical program modelled after the Silicon Graphics Inc. program of the same name. Gmemusage displays a window with a stacked bar. Areas on the bar correspond to individual processes running on the system and are updated periodically. Multiple copies of the same program (actually, programs with the same name) are merged into one area on the stack. Sizes of areas in the stack correspond to resident sizes of the processes.
Other Packages Related to gmemusage
dep:

libc6.1 (>= 2.7-1) [alpha]

GNU C Library: Shared libraries
also a virtual package provided by libc6.1-udeb