Package: maelstrom (1.4.3-L3.0.6+main-7 and others)
Links for maelstrom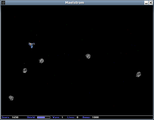 Debian Resources:
Download Source Package maelstrom:
Maintainer:
External Resources:
Similar packages:
An arcade-style game resembling Asteroids.
This is a port of the high-resolution "asteroids" style arcade game written by Andrew Welch for the Macintosh. It is now freely supported with additional network play on the Linux platform, courtesy of Sam Lantinga (slouken@libsdl.org).
Other Packages Related to maelstrom
Download maelstrom
Download for all available architectures

| Architecture | Version | Package Size | Installed Size | Files |
| --- | --- | --- | --- | --- |
| alpha (unofficial port) | 1.4.3-L3.0.6+main-7 | 707.3 kB | 2,630.0 kB | [list of files] |
| amd64 | 1.4.3-L3.0.6+main-7 | 697.9 kB | 2,574.0 kB | [list of files] |
| arm64 | 1.4.3-L3.0.6+main-7 | 692.9 kB | 2,577.0 kB | [list of files] |
| armel | 1.4.3-L3.0.6+main-7 | 686.2 kB | 2,547.0 kB | [list of files] |
| armhf | 1.4.3-L3.0.6+main-7 | 686.2 kB | 2,507.0 kB | [list of files] |
| hppa (unofficial port) | 1.4.3-L3.0.6+main-7 | 705.7 kB | 2,605.0 kB | [list of files] |
| hurd-i386 | 1.4.3-L3.0.6+main-7 | 697.4 kB | 2,579.0 kB | [list of files] |
| i386 | 1.4.3-L3.0.6+main-7 | 697.6 kB | 2,579.0 kB | [list of files] |
| kfreebsd-amd64 | 1.4.3-L3.0.6+main-7 | 697.3 kB | 2,574.0 kB | [list of files] |
| kfreebsd-i386 | 1.4.3-L3.0.6+main-7 | 697.8 kB | 2,579.0 kB | [list of files] |
| m68k (unofficial port) | 1.4.3-L3.0.6+main-7 | 681.8 kB | 2,555.0 kB | [list of files] |
| mips | 1.4.3-L3.0.6+main-7 | 692.9 kB | 2,589.0 kB | [list of files] |
| mips64el | 1.4.3-L3.0.6+main-7 | 704.9 kB | 2,651.0 kB | [list of files] |
| mipsel | 1.4.3-L3.0.6+main-7 | 695.7 kB | 2,593.0 kB | [list of files] |
| powerpc | 1.4.3-L3.0.6+main-7 | 694.1 kB | 2,652.0 kB | [list of files] |
| powerpcspe (unofficial port) | 1.4.3-L3.0.6+main-7 | 695.4 kB | 2,652.0 kB | [list of files] |
| ppc64 (unofficial port) | 1.4.3-L3.0.6+main-7+b1 | 697.0 kB | 2,720.0 kB | [list of files] |
| ppc64el | 1.4.3-L3.0.6+main-7 | 698.2 kB | 2,717.0 kB | [list of files] |
| s390x | 1.4.3-L3.0.6+main-7 | 696.9 kB | 2,605.0 kB | [list of files] |
| sh4 (unofficial port) | 1.4.3-L3.0.6+main-7 | 700.0 kB | 2,555.0 kB | [list of files] |
| sparc64 (unofficial port) | 1.4.3-L3.0.6+main-7+b1 | 688.2 kB | 2,586.0 kB | [list of files] |
| x32 (unofficial port) | 1.4.3-L3.0.6+main-7 | 697.8 kB | 2,564.0 kB | [list of files] |