Package: ltris (1.0.19-3 and others)
Links for ltris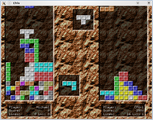 Debian Resources:
Download Source Package ltris:
Maintainer:
External Resources:
Similar packages:
very polished Tetris clone with CPU opponents
LTris is a very polished tetris clone, which offers three types of games. The classic mode, a figures mode, where different figures appear every level, and a multiplayer mode. LTris is highly configurable through its menu system.
Other Packages Related to ltris
Download ltris
Download for all available architectures

| Architecture | Version | Package Size | Installed Size | Files |
| --- | --- | --- | --- | --- |
| alpha (unofficial port) | 1.0.19-3 | 434.9 kB | 1,166.0 kB | [list of files] |
| amd64 | 1.0.19-3+b1 | 437.2 kB | 1,107.0 kB | [list of files] |
| arm64 | 1.0.19-3+b1 | 429.3 kB | 1,127.0 kB | [list of files] |
| armel | 1.0.19-3+b1 | 436.2 kB | 1,134.0 kB | [list of files] |
| armhf | 1.0.19-3+b1 | 434.5 kB | 1,078.0 kB | [list of files] |
| hppa (unofficial port) | 1.0.19-3 | 431.1 kB | 1,185.0 kB | [list of files] |
| hurd-i386 | 1.0.19-3 | 431.1 kB | 1,160.0 kB | [list of files] |
| i386 | 1.0.19-3+b1 | 434.4 kB | 1,106.0 kB | [list of files] |
| kfreebsd-amd64 | 1.0.19-3+b1 | 438.4 kB | 1,111.0 kB | [list of files] |
| kfreebsd-i386 | 1.0.19-3+b1 | 434.1 kB | 1,102.0 kB | [list of files] |
| m68k (unofficial port) | 1.0.19-3 | 424.7 kB | 1,034.0 kB | [list of files] |
| mips | 1.0.19-3+b1 | 432.3 kB | 1,163.0 kB | [list of files] |
| mips64el | 1.0.19-3+b1 | 433.8 kB | 1,171.0 kB | [list of files] |
| mipsel | 1.0.19-3+b1 | 433.3 kB | 1,163.0 kB | [list of files] |
| powerpcspe (unofficial port) | 1.0.19-3 | 425.8 kB | 1,169.0 kB | [list of files] |
| ppc64 (unofficial port) | 1.0.19-3+b1 | 429.4 kB | 1,180.0 kB | [list of files] |
| ppc64el | 1.0.19-3+b1 | 429.7 kB | 1,171.0 kB | [list of files] |
| s390x | 1.0.19-3+b1 | 438.8 kB | 1,163.0 kB | [list of files] |
| sh4 (unofficial port) | 1.0.19-3 | 438.7 kB | 1,109.0 kB | [list of files] |
| sparc64 (unofficial port) | 1.0.19-3 | 426.1 kB | 1,140.0 kB | [list of files] |
| x32 (unofficial port) | 1.0.19-3 | 437.1 kB | 1,172.0 kB | [list of files] |