Package: kmahjongg (4:18.04.1-1 and others)
Links for kmahjongg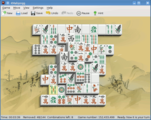 Debian Resources:
Download Source Package kmahjongg:
Maintainers:
External Resources:
Similar packages:
mahjongg solitaire game
KMahjongg is a solitaire game where the player removes matching Mahjongg tiles to clear the board. A variety of tile layouts are included, as well as an editor to create new layouts.
This package is part of the KDE games module.
Other Packages Related to kmahjongg
Download kmahjongg
Download for all available architectures

| Architecture | Version | Package Size | Installed Size | Files |
| --- | --- | --- | --- | --- |
| alpha (unofficial port) | 4:18.04.1-1 | 4,119.3 kB | 5,858.0 kB | [list of files] |
| amd64 | 4:18.04.1-1 | 4,116.6 kB | 5,789.0 kB | [list of files] |
| arm64 | 4:18.04.1-1 | 4,104.6 kB | 5,770.0 kB | [list of files] |
| armel | 4:18.04.1-1 | 4,103.7 kB | 5,735.0 kB | [list of files] |
| armhf | 4:18.04.1-1 | 4,104.0 kB | 5,683.0 kB | [list of files] |
| hppa (unofficial port) | 4:18.04.1-1 | 4,116.9 kB | 5,809.0 kB | [list of files] |
| hurd-i386 | 4:18.04.1-1 | 4,126.2 kB | 5,823.0 kB | [list of files] |
| i386 | 4:18.04.1-1 | 4,126.5 kB | 5,823.0 kB | [list of files] |
| kfreebsd-amd64 | 4:17.08.3-2 | 4,115.8 kB | 5,785.0 kB | [list of files] |
| kfreebsd-i386 | 4:17.08.3-2 | 4,125.6 kB | 5,819.0 kB | [list of files] |
| m68k (unofficial port) | 4:18.04.1-1 | 4,111.3 kB | 5,761.0 kB | [list of files] |
| mips | 4:18.04.1-1 | 4,106.5 kB | 5,806.0 kB | [list of files] |
| mips64el | 4:18.04.1-1 | 4,109.1 kB | 5,828.0 kB | [list of files] |
| mipsel | 4:18.04.1-1 | 4,108.4 kB | 5,806.0 kB | [list of files] |
| powerpcspe (unofficial port) | 4:18.04.1-1 | 4,108.1 kB | 5,815.0 kB | [list of files] |
| ppc64 (unofficial port) | 4:18.04.1-1 | 4,112.6 kB | 5,887.0 kB | [list of files] |
| ppc64el | 4:18.04.1-1 | 4,112.7 kB | 5,881.0 kB | [list of files] |
| riscv64 (unofficial port) | 4:18.04.1-1 | 4,107.0 kB | 5,717.0 kB | [list of files] |
| s390x | 4:18.04.1-1 | 4,110.2 kB | 5,813.0 kB | [list of files] |
| sh4 (unofficial port) | 4:18.04.1-1 | 4,130.5 kB | 5,756.0 kB | [list of files] |
| sparc64 (unofficial port) | 4:18.04.1-1 | 4,105.9 kB | 5,836.0 kB | [list of files] |
| x32 (unofficial port) | 4:18.04.1-1 | 4,116.7 kB | 5,764.0 kB | [list of files] |