Package: chocolate-doom (2.1.0-1) [contrib]
Links for chocolate-doom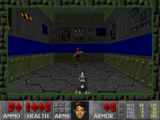 Debian Resources:
Maintainers:
External Resources:
Similar packages:
Doom engine closely-compatible with vanilla doom
Chocolate Doom aims to accurately reproduce the original DOS version of Doom and other games based on the Doom engine in a form that can be run on modern computers. Unlike most modern Doom engines, Chocolate Doom is not derived from the Boom source port and does not inherit its features (or bugs).
Originally, Chocolate Doom was only a Doom source port. The project now includes ports of Heretic and Hexen, and Strife.
Chocolate Doom requires game data to play. Commercial game data can be packaged using "game-data-packager". Chocolate Doom supports all flavors of Doom, including The Ultimate Doom, Doom 2 and Final Doom as well as Chex(R) Quest and HACX. Heretic, Hexen and Strife are supported by Chocolate Heretic, Chocolate Hexen and Chocolate Strife, respectively, which are also included in this package.
Other Packages Related to chocolate-doom
sug:

zenity

Display graphical dialog boxes from shell scripts
Download chocolate-doom
Download for all available architectures

| Architecture | Package Size | Installed Size | Files |
| --- | --- | --- | --- |
| amd64 | 756.8 kB | 3,285.0 kB | [list of files] |
| arm64 | 661.0 kB | 2,964.0 kB | [list of files] |
| armel | 613.6 kB | 2,787.0 kB | [list of files] |
| armhf | 644.4 kB | 2,343.0 kB | [list of files] |
| hurd-i386 | 757.3 kB | 3,279.0 kB | [list of files] |
| i386 | 753.9 kB | 3,217.0 kB | [list of files] |
| kfreebsd-amd64 | 760.6 kB | 3,230.0 kB | [list of files] |
| kfreebsd-i386 | 755.9 kB | 3,228.0 kB | [list of files] |
| mips | 738.4 kB | 3,655.0 kB | [list of files] |
| mipsel | 753.4 kB | 3,713.0 kB | [list of files] |
| powerpc | 645.7 kB | 3,117.0 kB | [list of files] |
| ppc64el | 681.8 kB | 3,580.0 kB | [list of files] |
| s390x | 743.5 kB | 3,659.0 kB | [list of files] |
| sparc | 640.3 kB | 3,013.0 kB | [list of files] |