Package: atom4 (4.1-9 and others)
Links for atom4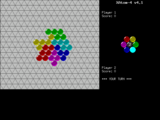 Debian Resources:
Download Source Package atom4:
Maintainer:
Similar packages:
Original two-player color puzzle game
Atom-4 is a two-player color manipulation game played with colored spherical pieces on a board divided into equilateral triangles. The player who first makes a row of 4 pieces of the right color wins. However, the players do not directly play pieces of the winning color; they must construct their winning pieces via color changes that happen to neighbouring pieces whenever a new piece is placed on the board.
Atom-4 supports both a curses-based text interface and an X11 interface.
Other Packages Related to atom4
dep:

libc6.1 (>= 2.27) [ia64]

GNU C Library: Shared libraries
also a virtual package provided by libc6.1-udeb

dep:

libc6.1 (>= 2.4) [alpha]

dep:

libgcc-s1 (>= 3.0) [riscv64]

GCC support library

dep:

libgcc1 (>= 1:3.0) [not armel, armhf, hppa, ia64, m68k, riscv64]

Package not available

dep:

libgcc1 (>= 1:3.5) [armel, armhf]

dep:

libgcc1 (>= 1:4.2) [ia64]

dep:

libgcc2 (>= 4.2.1) [m68k]

Package not available

dep:

libgcc4 (>= 4.1.1) [hppa]

Package not available

dep:

libncurses6 (>= 6)

shared libraries for terminal handling

dep:

libstdc++6 (>= 5)

GNU Standard C++ Library v3

dep:

libtinfo6 (>= 6)

shared low-level terminfo library for terminal handling

dep:

libunwind8 [ia64]

library to determine the call-chain of a program - runtime

dep:

libx11-6

X11 client-side library

dep:

libxpm4

X11 pixmap library