Package: adonthell (0.3.8-2.1)
Links for adonthell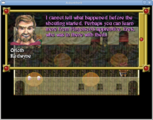 Debian Resources:
Download Source Package adonthell:
Maintainers:
External Resources:
Similar packages:
2D graphical roleplaying game
A 2D graphical RPG game inspired by good old console RPGs like the ones on the SNES.
This package contains the Adonthell engine. You'll also need a game to be able to play. For this release, the official game is Waste's Edge, found in the package adonthell-data.
Other Packages Related to adonthell
Download adonthell
Download for all available architectures

| Architecture | Package Size | Installed Size | Files |
| --- | --- | --- | --- |
| alpha (unofficial port) | 276.9 kB | 1,472.0 kB | [list of files] |
| amd64 | 277.4 kB | 1,214.0 kB | [list of files] |
| arm64 | 252.0 kB | 1,213.0 kB | [list of files] |
| armel | 235.2 kB | 1,125.0 kB | [list of files] |
| armhf | 240.8 kB | 869.0 kB | [list of files] |
| hppa (unofficial port) | 253.4 kB | 1,184.0 kB | [list of files] |
| i386 | 288.4 kB | 1,229.0 kB | [list of files] |
| ia64 (unofficial port) | 318.8 kB | 2,208.0 kB | [list of files] |
| m68k (unofficial port) | 278.4 kB | 1,237.0 kB | [list of files] |
| mips64el | 241.7 kB | 1,492.0 kB | [list of files] |
| mipsel | 241.3 kB | 1,391.0 kB | [list of files] |
| ppc64 (unofficial port) | 274.8 kB | 1,597.0 kB | [list of files] |
| ppc64el | 279.1 kB | 1,469.0 kB | [list of files] |
| riscv64 (unofficial port) | 263.0 kB | 1,068.0 kB | [list of files] |
| s390x | 248.0 kB | 1,261.0 kB | [list of files] |
| sh4 (unofficial port) | 301.2 kB | 1,191.0 kB | [list of files] |
| sparc64 (unofficial port) | 230.9 kB | 1,222.0 kB | [list of files] |
| x32 (unofficial port) | 278.8 kB | 1,110.0 kB | [list of files] |