Package: vim (2:9.0.2116-1 and others)
Links for vim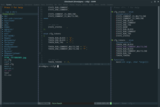 Debian Resources:
Download Source Package vim:
Maintainers:
External Resources:
Similar packages:
Vi IMproved - enhanced vi editor
Vim is an almost compatible version of the UNIX editor Vi.
Many new features have been added: multi level undo, syntax highlighting, command line history, on-line help, filename completion, block operations, folding, Unicode support, etc.
This package contains a version of vim compiled with a rather standard set of features. This package does not provide a GUI version of Vim. See the other vim-* packages if you need more (or less).
Other Packages Related to vim
sug:

ctags

virtual package provided by

sug:

vim-doc

Vi IMproved - HTML documentation

sug:

vim-scripts

plugins for vim, adding bells and whistles
Download vim
Download for all available architectures

| Architecture | Version | Package Size | Installed Size | Files |
| --- | --- | --- | --- | --- |
| alpha (unofficial port) | 2:9.0.2087-1 | 1,475.1 kB | 4,379.0 kB | [list of files] |
| amd64 | 2:9.0.2116-1 | 1,562.4 kB | 3,742.0 kB | [list of files] |
| arm64 | 2:9.0.2116-1 | 1,427.9 kB | 3,928.0 kB | [list of files] |
| armel | 2:9.0.2116-1 | 1,320.6 kB | 3,388.0 kB | [list of files] |
| armhf | 2:9.0.2116-1 | 1,343.5 kB | 2,440.0 kB | [list of files] |
| hppa (unofficial port) | 2:9.0.2116-1 | 1,359.5 kB | 3,369.0 kB | [list of files] |
| i386 | 2:9.0.2116-1 | 1,641.6 kB | 4,158.0 kB | [list of files] |
| ia64 (unofficial port) | 2:9.0.2116-1 | 1,925.6 kB | 7,831.0 kB | [list of files] |
| m68k (unofficial port) | 2:9.0.2116-1 | 1,360.8 kB | 3,302.0 kB | [list of files] |
| mips64el | 2:9.0.2116-1 | 1,426.4 kB | 4,603.0 kB | [list of files] |
| ppc64 (unofficial port) | 2:9.0.2116-1 | 1,587.7 kB | 5,138.0 kB | [list of files] |
| ppc64el | 2:9.0.2116-1 | 1,639.4 kB | 4,952.0 kB | [list of files] |
| riscv64 | 2:9.0.2116-1 | 1,620.0 kB | 3,433.0 kB | [list of files] |
| s390x | 2:9.0.2116-1 | 1,576.1 kB | 4,210.0 kB | [list of files] |
| sh4 (unofficial port) | 2:9.0.2116-1 | 1,735.5 kB | 3,308.0 kB | [list of files] |
| sparc64 (unofficial port) | 2:9.0.2116-1 | 1,321.6 kB | 4,378.0 kB | [list of files] |
| x32 (unofficial port) | 2:9.0.2116-1 | 1,551.9 kB | 3,507.0 kB | [list of files] |