Package: monodevelop (5.10.0.871-2)
Links for monodevelop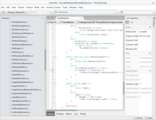 Debian Resources:
Download Source Package monodevelop:
Maintainers:
External Resources:
Similar packages:
Development Environment for GNOME
MonoDevelop is a GNOME IDE primarily designed for C# and other CLI (.NET) languages. It is the unbranded version of Xamarin Studio.
It supports the following languages: C, C++, C# (1.0, 2.0 and 3.0), Vala, Boo, Java, Nemerle, ILasm, ASP.NET and VB.NET.
Features: Debugger Integration (Mono Debugger and GNU Debugger), Class Browser, Assembly Browser, Built-in Help, Monodoc Integration, Code Completion (also known as IntelliSense), Code Folding, Color Schemes, Code Refactoring, On-the-fly error underlining, XML Editing, Embedded HTML viewer, Gettext support, GTK# Designer, MSBuild project support and Makefile Generation.
Other Packages Related to monodevelop
sug:

exuberant-ctags

build tag file indexes of source code definitions

sug:

gcc

GNU C compiler

sug:

gettext

GNU Internationalization utilities

sug:

make

utility for directing compilation
also a virtual package provided by make-guile

sug:

mono-vbnc

Mono Visual Basic Compiler (VB.NET)

sug:

monodevelop-database

Database plugin for MonoDevelop

sug:

monodevelop-debugger-gdb

Package not available

sug:

monodevelop-nunit

NUnit plugin for MonoDevelop

VersionControl plugin for MonoDevelop

sug:

monodoc-browser

Package not available

sug:

zip

Archiver for .zip files
Download monodevelop
Download for all available architectures

| Architecture | Package Size | Installed Size | Files |
| --- | --- | --- | --- |
| all | 7,230.5 kB | 32,456.0 kB | [list of files] |