Package: antimony (0.9.3-2 and others)
Links for antimony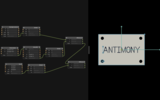 Debian Resources:
Download Source Package antimony:
Maintainer:
Similar packages:
Computer-aided design CAD tool
Antimony is a computer-aided design (CAD) tool from a parallel universe in which CAD software evolved from Lisp machines rather than drafting tables.
Antimony provides the Python3 Fab that is a set of software tools for personal fabrication, intended for use with machines common to fab labs. For info about Fab visit kokompe.cba.mit.edu/.
Other Packages Related to antimony
Download antimony
Download for all available architectures

| Architecture | Version | Package Size | Installed Size | Files |
| --- | --- | --- | --- | --- |
| alpha (unofficial port) | 0.9.3-2+b1 | 483.0 kB | 2,351.0 kB | [list of files] |
| amd64 | 0.9.3-2+b2 | 503.9 kB | 2,069.0 kB | [list of files] |
| arm64 | 0.9.3-2+b1 | 447.7 kB | 1,995.0 kB | [list of files] |
| armel | 0.9.3-2+b1 | 409.4 kB | 1,758.0 kB | [list of files] |
| armhf | 0.9.3-2+b1 | 414.6 kB | 1,466.0 kB | [list of files] |
| hppa (unofficial port) | 0.9.3-2+b1 | 503.3 kB | 2,123.0 kB | [list of files] |
| i386 | 0.9.3-2+b1 | 513.9 kB | 2,011.0 kB | [list of files] |
| ia64 (unofficial port) | 0.9.3-2+b1 | 578.0 kB | 3,492.0 kB | [list of files] |
| m68k (unofficial port) | 0.9.3-2+b1 | 454.9 kB | 1,866.0 kB | [list of files] |
| mips64el | 0.9.3-2+b1 | 426.9 kB | 2,345.0 kB | [list of files] |
| mipsel | 0.9.3-2+b1 | 428.9 kB | 2,160.0 kB | [list of files] |
| ppc64 (unofficial port) | 0.9.3-2+b1 | 483.2 kB | 2,478.0 kB | [list of files] |
| ppc64el | 0.9.3-2+b1 | 493.0 kB | 2,337.0 kB | [list of files] |
| riscv64 (unofficial port) | 0.9.3-2+b1 | 458.2 kB | 1,754.0 kB | [list of files] |
| s390x | 0.9.3-2+b1 | 433.4 kB | 2,057.0 kB | [list of files] |
| sh4 (unofficial port) | 0.9.3-2+b1 | 528.3 kB | 1,866.0 kB | [list of files] |
| sparc64 (unofficial port) | 0.9.3-2+b1 | 423.6 kB | 2,100.0 kB | [list of files] |
| x32 (unofficial port) | 0.9.3-2+b1 | 490.9 kB | 1,886.0 kB | [list of files] |