Package: sysrqd (14-3)
Links for sysrqd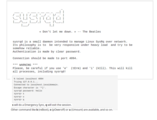 Debian Resources:
Download Source Package sysrqd:
Maintainer:
Similar packages:
small daemon intended to manage Linux SysRq over network
Permits to execute usual SysRq commands by network, like: sync, umount, reboot, poweroff, sak, term, etc.
Its philosophy is to be very responsive under heavy load and try to be somehow reliable. Authentication is made by clear password.
Other Packages Related to sysrqd
dep:

libc6 (>= 2.34) [not alpha, ia64, sh4]

GNU C Library: Shared libraries
also a virtual package provided by libc6-udeb

dep:

libc6 (>= 2.36) [sh4]

dep:

libc6.1 (>= 2.35) [ia64]

GNU C Library: Shared libraries
also a virtual package provided by libc6.1-udeb

dep:

libc6.1 (>= 2.4) [alpha]