Package: partimage (0.6.9-10)
Links for partimage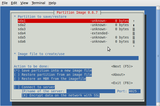 Debian Resources:
Download Source Package partimage:
Maintainer:
External Resources:
Similar packages:
backup partitions into a compressed image file
Partition Image is a partition imaging utility. It has support for the following file systems:

 * Ext2/3, the Linux standard
 * ReiserFS, a journalised and powerful file system
 * FAT16/32, DOS and Windows file systems
 * HPFS, IBM OS/2 file system
 * JFS, journalised file system, from IBM, used on AIX
 * XFS, another journalised and efficient file system, from SGI, used on Irix
 * UFS (beta), Unix file system
 * HFS (beta), MacOS File system
 * NTFS (experimental), Windows NT, 2000 and XP

Only used blocks are copied and stored into an image file. The image file can be compressed in the GZIP/BZIP2 formats to save disk space, and split into multiple files to be copied onto removable media (ZIP for example), burned on a CD-R, etc.
This makes it possible to save a full Linux/Windows system with a single operation. In case of a problem (virus, crash, error, etc.), you just have to restore, and after several minutes, your entire system is restored (boot, files, etc.), and fully working.
This is very useful when installing the same software on many machines: just install one of them, create an image, and restore the image on all other machines.
Other Packages Related to partimage
rec:

e2fsprogs

ext2/ext3/ext4 file system utilities