Пакунок: phpsysinfo (3.0.17-1)
Links for phpsysinfo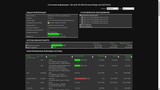 Debian Resources:
Download Source Package phpsysinfo:
Maintainers:
External Resources:
Similar packages:
PHP based host information
phpSysInfo is a PHP script that displays information about the host being accessed.
It displays informations on the system like kernel version, uptime, network, disk and memory usage, informations on CPU and model, attached IDE and SCSI devices and PCI cards and lm-sensors output on architectures supporting it.
It has support for multiple languages and themes.
Інші пакунки пов'язані з phpsysinfo
dep:

apache2

Збірний пакунок HTTP-сервера Apache
also a virtual package provided by apache2-mpm-event, apache2-mpm-itk, apache2-mpm-prefork, apache2-mpm-worker

or httpd

virtual package provided by aolserver4-core, aolserver4-daemon, apache2-mpm-event, apache2-mpm-itk, apache2-mpm-prefork, apache2-mpm-worker, boa, bozohttpd, ebhttpd, lighttpd, micro-httpd, mini-httpd, nginx-extras, nginx-full, nginx-light, nginx-naxsi, nginx-naxsi-ui, ocsigen, ocsigenserver, tntnet, webfs, yaws

dep:

php5

Вбудовувана у HTML мова сценаріїв, що інтерпретується, на стороні сервера (збірний пакунок)

dep:

php5-xsl

XSL module for php5
sug:

hddtemp

Інструмент відстеження температури жорстких дисків

sug:

lm-sensors

Утиліти для читання значень датчиків температури/напруги/обертів вентиляторів
Завантажити phpsysinfo
Завантаження для всіх доступних архітектур

| Архітектура | Розмір пакунка | Розмір після встановлення | Файли |
| --- | --- | --- | --- |
| all | 462.2 kB | 1,843.0 kB | [список файлів] |