Пакунок: netwox (5.36.0-1.2)
Links for netwox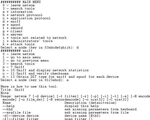 Debian Resources:
Maintainer:
Similar packages:
networking utilities
Toolbox netwox helps to find and solve network problems.
It provides more than 200 tools :

 - sniff, spoof
 - clients, servers
 - DNS, FTP, HTTP, IRC, NNTP, SMTP, SNMP, SYSLOG, TELNET, TFTP
 - scan, ping traceroute
 - etc.

Those tools can be used to quickly spot a problem in a complex network. They are oriented towards network administrators and security auditors.
Інші пакунки пов'язані з netwox
rec:

netwag

graphical frontend for netwox
Завантажити netwox
Завантаження для всіх доступних архітектур

| Архітектура | Розмір пакунка | Розмір після встановлення | Файли |
| --- | --- | --- | --- |
| amd64 | 684.7 kB | 1,844.0 kB | [список файлів] |
| armel | 623.7 kB | 1,580.0 kB | [список файлів] |
| armhf | 575.9 kB | 1,140.0 kB | [список файлів] |
| i386 | 634.2 kB | 1,672.0 kB | [список файлів] |
| ia64 | 953.5 kB | 3,504.0 kB | [список файлів] |
| mips | 664.8 kB | 2,020.0 kB | [список файлів] |
| mipsel | 664.1 kB | 2,020.0 kB | [список файлів] |
| powerpc | 692.6 kB | 1,836.0 kB | [список файлів] |
| s390 | 672.1 kB | 1,724.0 kB | [список файлів] |
| sparc | 632.7 kB | 1,672.0 kB | [список файлів] |