Пакунок: piespy (0.4.0-2.2)
Links for piespy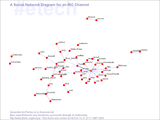 Debian Resources:
Download Source Package piespy:
Maintainer:
External Resources:
Similar packages:
An IRC bot to visualize social networks
PieSpy is an IRC bot that monitors a set of IRC channels. It uses a simple set of heuristics to infer relationships between pairs of users. These inferrences allow PieSpy to build a mathematical model of a social network for any channel. These social networks can be drawn and used to create animations of evolving social networks.
Інші пакунки пов'язані з piespy
Завантажити piespy
Завантаження для всіх доступних архітектур

| Архітектура | Розмір пакунка | Розмір після встановлення | Файли |
| --- | --- | --- | --- |
| all | 112.1 kB | 184.0 kB | [список файлів] |