Пакунок: yafc (1.1.3-2)
Links for yafc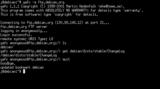 Debian Resources:
Download Source Package yafc:
Maintainer:
External Resources:
Similar packages:
yet another FTP client
yafc is an ftp client intended to be a replacement for the standard ftp(1) program. Features include directory cache, remote filename completion, aliases, colored ls, recursive get/put/ls/rm, nohup mode transfers, tagging (queueing), background downloading, and more.
This version is compiled with Kerberos 5 authentication.
Інші пакунки пов'язані з yafc
Завантажити yafc
Завантаження для всіх доступних архітектур

| Архітектура | Розмір пакунка | Розмір після встановлення | Файли |
| --- | --- | --- | --- |
| i386 | 153.2 kB | 358.0 kB | [список файлів] |