Пакунок: pacman4console (1.2-2)
Links for pacman4console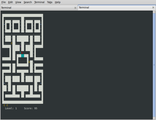 Debian Resources:
Maintainer:
External Resources:
Similar packages:
a console based pacman game
This is a simple but very good pacman game. Also, its source code is very simple and well commented so it may be a good reference for learning ncurses and C programming.
Pacman4Console is an ASCII character based game. This game has nine levels. But you can make your own levels.
Screenshot: http://www.eriberto.pro.br/debian/screenshots/pacman4console.jpg
Інші пакунки пов'язані з pacman4console
dep:

libc6 (>= 2.7-1)

Вбудовуванні бібліотеки GNU Сі — спільні бібліотеки
also a virtual package provided by libc6-udeb

dep:

libncurses5 (>= 5.6+20071006-3)

Спільні бібліотеки для роботи із терміналом
Завантажити pacman4console
Завантаження для всіх доступних архітектур

| Архітектура | Розмір пакунка | Розмір після встановлення | Файли |
| --- | --- | --- | --- |
| armel | 20.6 kB | 172.0 kB | [список файлів] |