Пакунок: f-irc (1.36-1 and others)
Links for f-irc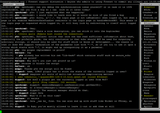 Debian Resources:
Download Source Package f-irc:
Maintainer:
External Resources:
Similar packages:
user-friendly IRC client for the console/terminal
F-IRC is an IRC client for terminals/command-line/console. Its goal is to be as user friendly as possible with easy navigation and keyboard shortcuts for quick navigation. It has an as much a gentle learning curve as possible.
Інші пакунки пов'язані з f-irc
dep:

libc6 (>= 2.14) [amd64]

Бібліотека GNU C: спільні бібліотеки
also a virtual package provided by libc6-udeb

dep:

libc6 (>= 2.17) [arm64, ppc64el]

dep:

libc6 (>= 2.8) [not amd64, arm64, ppc64el]

dep:

libncursesw5 (>= 6)

Спільні бібліотеки для роботи з терміналом (з підтримкою багатобайтових символів)

dep:

libtinfo5 (>= 6)

Низькорівнева колективна бібліотека "terminfo" для роботи з терміналом
sug:

znc

advanced modular IRC bouncer