Пакунок: notebook-gtk2 (0.2rel-3 and others)
Links for notebook-gtk2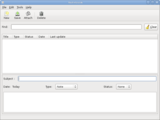 Debian Resources:
Download Source Package notebook:
Maintainer:
Similar packages:
GTK+ logbook editor
Notebook is designed to store different kinds of information, including:

 - Regular notes.
 - Personal notes.
 - Bookmarks.

You can search and sort through the information stored.It uses XML and is easy to import/export only part of the data.
Інші пакунки пов'язані з notebook-gtk2
Завантажити notebook-gtk2
Завантаження для всіх доступних архітектур

| Архітектура | Версія | Розмір пакунка | Розмір після встановлення | Файли |
| --- | --- | --- | --- | --- |
| arm64 | 0.2rel-3+b1 | 29.2 kB | 153.0 kB | [список файлів] |