Пакунок: sucrack (1.2.3-4)
Links for sucrack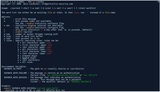 Debian Resources:
Download Source Package sucrack:
Maintainers:
External Resources:
Similar packages:
multithreaded su bruteforcer
sucrack is a multithreaded Linux/UNIX tool for cracking local user accounts via wordlist bruteforcing su. This tool comes in handy when you've gained access to a low-privilege user account but are allowed to su to other users. Many su implementations require a pseudo terminal to be attached in order to take the password from the user. This can't be easily achieved with a simple shell script. This tool, written in C, is highly efficient and can attempt multiple logins at the same time.
Інші пакунки пов'язані з sucrack
dep:

libc6 (>= 2.8)

Бібліотека GNU C: спільні бібліотеки
also a virtual package provided by libc6-udeb
Завантажити sucrack
Завантаження для всіх доступних архітектур

| Архітектура | Розмір пакунка | Розмір після встановлення | Файли |
| --- | --- | --- | --- |
| amd64 | 16.9 kB | 45.0 kB | [список файлів] |