Пакунок: upnp-router-control (0.1-1)
Links for upnp-router-control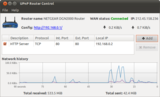 Debian Resources:
Maintainer:
External Resources:
Similar packages:
simple program that manages UPnP compliant routers
UPnP Router Control allows to see some parameters of the router like the network speed, the external IP and the name. It can manage port forwarding through a simple interface.
UPnP Router Control retrieves this information through UPnP-IGD protocol, so you must enable it in your router in order to utilize it.
Інші пакунки пов'язані з upnp-router-control
Завантажити upnp-router-control
Завантаження для всіх доступних архітектур

| Архітектура | Розмір пакунка | Розмір після встановлення | Файли |
| --- | --- | --- | --- |
| amd64 | 67.8 kB | 716.0 kB | [список файлів] |