Пакунок: xcas (1.4.9.69+dfsg1-2 and others)
Links for xcas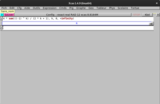 Debian Resources:
Download Source Package giac:
Maintainers:
External Resources:
Similar packages:
Computer Algebra System - console and graphical calculator
Giac is a computer algebra system, following the development of the CAS for HP calculators. It has fast implementation of algorithms for polynomial operations, and compatibility mode with Maple or Mupad CAS as well as TI calculators.
This package contains the user-facing giac programs: xcas, icas, and pgiac; as well as the cas_help program for providing user-oriented help.
Інші пакунки пов'язані з xcas
dep:

libc0.1 (>= 2.17-91) [kfreebsd-amd64]

Бібліотека GNU C: спільні бібліотеки
also a virtual package provided by libc0.1-udeb

dep:

libc6.1 (>= 2.4) [alpha]

Бібліотека GNU C: спільні бібліотеки
also a virtual package provided by libc6.1-udeb

dep:

libfltk-gl1.3

Fast Light Toolkit - OpenGL rendering support

dep:

libfltk-images1.3

Fast Light Toolkit - image loading support

dep:

libfltk1.3 (>= 1.3.4)

Fast Light Toolkit - main shared library

dep:

libfontconfig1 (>= 2.12) [sh4]

Загальна бібліотека налаштування шрифтів — підтримка виконання

dep:

libfontconfig1 (>= 2.12.6) [not sh4]

dep:

libgcc1 (>= 1:3.0) [not alpha, armel, armhf, m68k, riscv64, sh4]

Допоміжна бібліотека GCC

dep:

libgcc1 (>= 1:3.4) [alpha, riscv64, sh4]

dep:

libgcc1 (>= 1:3.5) [armel, armhf]

dep:

libgcc2 (>= 4.2.1) [m68k]

Допоміжна бібліотека GCC

dep:

libgiac0 [alpha, m68k, powerpcspe, sh4]

Computer Algebra System C++ library

dep:

libgiac0 (= 1.4.9.69+dfsg1-2) [not alpha, m68k, powerpcspe, sh4]

dep:

libgl1 [not kfreebsd-amd64, sh4]

Vendor neutral GL dispatch library -- legacy GL support
also a virtual package provided by libgl1-mesa-glx, libgl1-mesa-swx11

dep:

libgl1-mesa-glx [kfreebsd-amd64, sh4]

Перехідний фіктивний пакунок

or libgl1

Vendor neutral GL dispatch library -- legacy GL support
also a virtual package provided by libgl1-mesa-glx, libgl1-mesa-swx11

dep:

libgl2ps1 [sh4]

Пакунок недоступний

dep:

libgl2ps1.4 [not sh4]

Lib providing high quality vector output for OpenGL application

dep:

libgmp10

Арифметична бібліотека багатоточності

dep:

libgsl2 [sh4]

Пакунок недоступний

dep:

libgsl23 (>= 2.5) [not sh4]

GNU Scientific Library (GSL) -- library package

dep:

libgslcblas0 (>= 2.4) [not sh4]

GNU Scientific Library (GSL) -- blas library package

dep:

libjpeg62-turbo (>= 1.3.1)

Виконавча бібліотека JPEG — libjpeg-turbo

dep:

libmpfi0 (>= 1.5.1) [not kfreebsd-amd64]

multiple precision floating-point interval computation library -- lib

dep:

libmpfr4 (>= 3.1.3) [sh4]

Обчислення з плаваючою комою з високою точністю

dep:

libmpfr6 (>= 3.1.3) [not sh4]

Обчислення з плаваючою комою з високою точністю

dep:

libncurses6 (>= 6) [not sh4]

Спільні бібліотеки для роботи із терміналом

dep:

libntl27 (>= 9.9.1) [sh4]

Пакунок недоступний

dep:

libntl35 [not sh4]

Number Theory Library, shared library

dep:

libpari-gmp-tls5 (>= 2.9.0~pre1-1) [alpha, sh4]

PARI/GP Computer Algebra System shared library

dep:

libpari-gmp-tls6 (>= 2.11.0-1) [not alpha, sh4]

PARI/GP Computer Algebra System shared library

dep:

libpng16-16 (>= 1.6.2-1)

Бібліотека для роботи з PNG версії 1.6 (бібліотека часу виконання)

dep:

libreadline7 (>= 6.0)

Бібліотеки GNU readline та history, динамічні бібліотеки

dep:

libstdc++6 [riscv64]

Стандартна бібліотека C++ GNU, версії 3

dep:

libstdc++6 (>= 5.2) [not riscv64]

dep:

libtinfo5 (>= 6) [sh4]

Низькорівнева колективна бібліотека "terminfo" (застаріла версія)

dep:

libtinfo6 (>= 6) [not sh4]

Низькорівнева колективна бібліотека "terminfo" для роботи з терміналом

dep:

libx11-6

Клієнтська бібліотека X11

dep:

libxext6

Бібліотека різноманітних розширень для X11

dep:

libxft2 (>> 2.1.1)

Бібліотека X для відтворення FreeType шрифтів

dep:

libxinerama1

Бібліотека розширення X11 Xinerama

dep:

perl

Мова Практичного Видобування та Побудування Звітів Лари Уолла (Larry Wall)

dep:

zlib1g (>= 1:1.1.4)

Бібліотека стискання даних (виконавчий модуль)
Завантажити xcas
Завантаження для всіх доступних архітектур

| Архітектура | Версія | Розмір пакунка | Розмір після встановлення | Файли |
| --- | --- | --- | --- | --- |
| alpha (unofficial port) | 1.2.3.57+dfsg1-2+b6 | 1,057.2 kB | 4,602.0 kB | [список файлів] |
| amd64 | 1.4.9.69+dfsg1-2 | 1,093.0 kB | 4,063.0 kB | [список файлів] |
| arm64 | 1.4.9.69+dfsg1-2 | 987.4 kB | 3,783.0 kB | [список файлів] |
| armel | 1.4.9.69+dfsg1-2 | 956.2 kB | 3,565.0 kB | [список файлів] |
| armhf | 1.4.9.69+dfsg1-2 | 963.7 kB | 2,865.0 kB | [список файлів] |
| i386 | 1.4.9.69+dfsg1-2 | 1,145.8 kB | 4,317.0 kB | [список файлів] |
| kfreebsd-amd64 | 1.4.9.69+dfsg1-2 | 1,092.6 kB | 4,043.0 kB | [список файлів] |
| m68k (unofficial port) | 1.2.3.57+dfsg1-2+b4 | 1,031.4 kB | 3,993.0 kB | [список файлів] |
| mips64el | 1.4.9.69+dfsg1-2 | 978.7 kB | 4,602.0 kB | [список файлів] |
| mipsel | 1.4.9.69+dfsg1-2 | 1,001.3 kB | 4,612.0 kB | [список файлів] |
| powerpcspe (unofficial port) | 1.2.3.57+dfsg1-2+b6 | 952.2 kB | 4,005.0 kB | [список файлів] |
| ppc64el | 1.4.9.69+dfsg1-2 | 1,049.4 kB | 4,561.0 kB | [список файлів] |
| riscv64 (unofficial port) | 1.4.9.69+dfsg1-2 | 1,035.8 kB | 3,467.0 kB | [список файлів] |
| sh4 (unofficial port) | 1.2.3.57+dfsg1-2 | 1,180.3 kB | 3,870.0 kB | [список файлів] |