Пакунок: pybridge (0.3.0-7.2)
Links for pybridge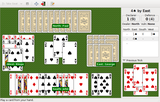 Debian Resources:
Download Source Package pybridge:
Maintainer:
External Resources:
Similar packages:
An online contract bridge game. Gtk client
PyBridge lets you play the card game of contract bridge, with human players, over the Internet or a local network. The PyBridge project aims to provide a featureful cross-platform alternative to existing online bridge services.
This package provides a PyGTK / Glade front-end user interface through which games are played
Інші пакунки пов'язані з pybridge
Завантажити pybridge
Завантаження для всіх доступних архітектур

| Архітектура | Розмір пакунка | Розмір після встановлення | Файли |
| --- | --- | --- | --- |
| all | 131.4 kB | 414.0 kB | [список файлів] |