Пакунок: netstat-nat (1.4.10-3 and others)
Links for netstat-nat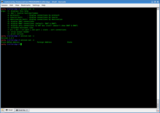 Debian Resources:
Download Source Package netstat-nat:
Maintainer:
External Resources:
Similar packages:
tool that display NAT connections
Netstat-nat is a program that displays Network Address Translations (NAT) connections, managed by netfilter/iptables acting as firewall.
NAT rules are stored in memory. However, the program reads its information from '/proc/net/ip_conntrack', which is the temporary conntrack-storage of netfilter.
Інші пакунки пов'язані з netstat-nat
dep:

libc6.1 (>= 2.4) [alpha]

Бібліотека GNU C: спільні бібліотеки
also a virtual package provided by libc6.1-udeb