Пакунок: mrxvt-mini (0.5.4-1.1) [debports]
Links for mrxvt-mini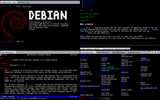 Debian Resources:
Download Source Package :
Не знайдено
Maintainers:
External Resources:
Similar packages:
lightweight multi-tabbed X terminal emulator - minimalistic version
Mrxvt is a multi-tabbed color vt102 terminal emulator for X Window system. It features multi-tab support, fast pseudo-transparent background, user supplied XPM/JPEG/PNG images for background, tinting, off-focus fading, text shadow, NeXT/Rxvt/Xterm/SGI/Plain style scrollbars, XIM and multi-languages (Chinese/Korea/Japanese), and logging.
Mrxvt does NOT require KDE or GNOME desktop environment.
This package contains a minimalistic version of mrxvt compiled without any additional features.
Інші пакунки пов'язані з mrxvt-mini
dep:

libc6 (>= 2.17)

Бібліотека GNU C: спільні бібліотеки
also a virtual package provided by libc6-udeb

dep:

libx11-6

Клієнтська бібліотека X11

dep:

mrxvt-common (>= 0.5.4)

Пакунок недоступний
Завантажити mrxvt-mini
Завантаження для всіх доступних архітектур

| Архітектура | Розмір пакунка | Розмір після встановлення | Файли |
| --- | --- | --- | --- |
| arm64 (unofficial port) | 61.0 kB | 194.0 kB | [список файлів] |