Пакунок: iselect (1.4.0-4)
Links for iselect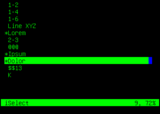 Debian Resources:
Download Source Package iselect:
Maintainer:
External Resources:
Similar packages:
ncurses-based interactive line selection tool
iSelect is an interactive line selection tool, operating via a full-screen Curses-based terminal session. It can be used either as an user interface frontend controlled by a Bourne-Shell/Perl/Tcl backend as its control script or in batch mode as a pipeline filter (usually between grep and the final executing command).
This package also includes screen-ir, a script to interactively reattach to one of several screen sessions.
Інші пакунки пов'язані з iselect
sug:

libtimedate-perl

Набір модулів для роботи із часом та датою

sug:

screen

Термінальний мультиплексор з емуляцією терміналів VT100/ANSI
enh:

screen

Термінальний мультиплексор з емуляцією терміналів VT100/ANSI